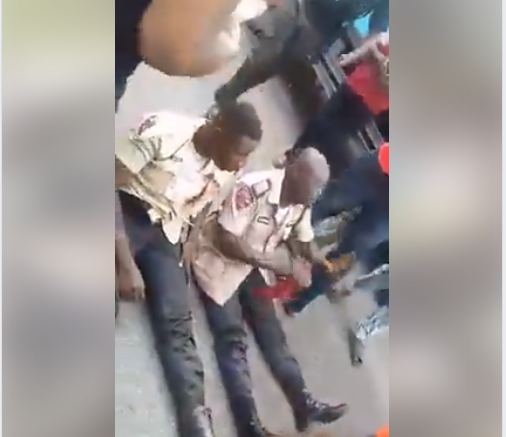 Two Federal Road Safety Corps (FRSC) officials were humiliated publicly and beaten by a mob after allegedly causing a ghastly motor accident in Anambra state.
It was alleged by the crowd that the road safety officials who mounted a checkpoint in the area, were fond of collecting bribes from motorists and were reportedly chasing a passenger bus before the accident occurred after colliding with another vehicle.
Many of the passengers in the bus were seriously injured after the crash including a pregnant woman.
The accident was said to have caused anger among the residents who caught two of road safety men and dealt with them in public. They were forced to sit in the middle of the road while they begged for forgiveness..
An armed policeman was present as he begged the residents to have mercy on the officials and stop beating them.
Watch Video Below;