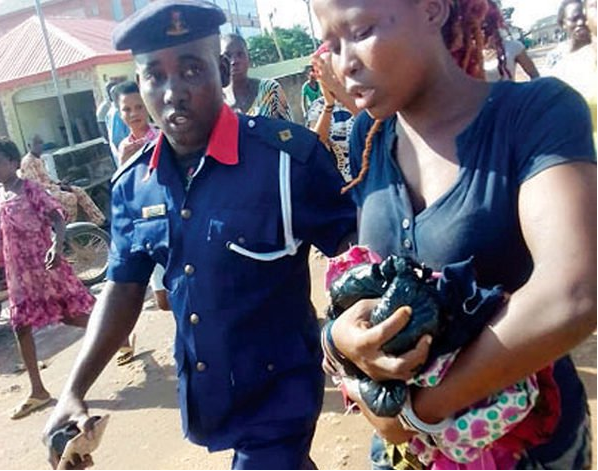 The Ado-Odo/Ota Divisional Command of Nigeria Security and Civil Defence Corps (NSCDC) yesterday rescued a suspected child kidnapper from being lynched by irate mob in Ota, a suburb of Ogun State.
The woman, named 'Sade',' was caught, about 9 am, at Agbajowo Community in Ado/Odo Ota Local Government, near Faramed Hospital, on Ilo-Awela Road.
The Ota NSCDC Divisional Commandant, Idowu Adesola, who confirmed the report, said: "The suspected child kidnapper was, in the early hours of Wednesday, September 19, about 0909 hours, rescued by NSCDC, Ado-Odo/Ota Division from being lynched by irate mob, which wanted to kill and set her ablaze.
"The suspected, 'Sade' in her late 30s, claimed she came from Mile 2 in Lagos. She was caught roaming around some houses within Agbajowo community.
"She later settled down in a house within the neighbourhood, where she claimed she wanted to have rest in its balcony.
"An alarm was raised by some people, who suspected her movements. While interrogating her, an Android phone,  sweets, chin-chin, cooked rice, gala, among others, used to entice children, were found in her nylon bag.
"After much interrogation by the community chairman and other leaders, everyone was convinced the young lady has a sinister mission. The area boys on the scene wanted to lynch her.  NSCDC intervened, and later handed her to Sango Divisional Police Command for more interrogation."
An eyewitnesses said the woman was caught with an Android phone, sim cards, and others.
According to her, the woman quickly chewed and swallowed some of the items to avoid further questions.
Place this code at the end of your tag: