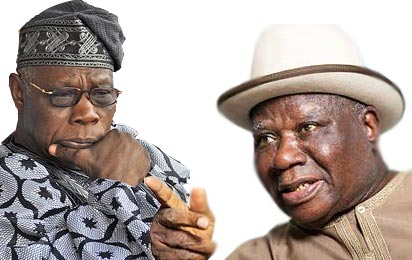 Ijaw leader, Chief Edwin Clark, on Wednesday, knocked former President Olusegun Obasanjo for what he described as a deliberate attempt by the former President to incite Nigerians against Ijaw leaders including former President Goodluck Jonathan.
Clark, a former information minister, stated this on Wednesday in an open letter addressed to Obasanjo, over his remarks in the recently published book titled "Against the Run of Play" by Olusegun Adeniyi.
He said the former President's narrations in Adeniyi's new book were false and despicable especially as it concerns him and other Ijaw leaders.
 "For instance, some of the statements you made against me in your book "Under My Watch" were the same statements you repeated in Olusegun Adeniyi's book which is an arrangement between the two of you to condemn the Ijaw and to incite other Nigerian leaders to disparage the Ijaw leaders particularly myself and the younger ones like Asari Dokubo whom you kept in prison for two years without trial until we begged you to release him," he stated.
He however challenged Obasanjo to tell Nigerians "… what do you really want from Jonathan and the Ijaw people? Most of the various issues you raised in collaboration with Olusegun Adeniyi's book "Against the Run of Play" are mere re-visitation of the many things you did and failed to do in your eight years of mis-governance."
Clark also refuted Obasanjo claims that Jonathan was clannish and surrounded himself with his Ijaw kinsmen.
This, he said, was one of the reasons he (Obasanjo) gave for not supporting Jonathan's candidature in the 2015 Presidential Election.
The Ijaw leader, who is also the leader of the Pan Niger Delta Forum, accused Obasanjo of being responsible for the travails the nation was currently going through
Clark said, "Another criticism you made against Jonathan was Jonathan's way of handling Boko Haram and that Jonathan was not interested in accountability and that if Jonathan was therefore allowed to continue in 2015 it would no doubt damage the whole country.
 "And that Jonathan and his people turned Boko Haram into an industry for making money. I think this is very uncharitable…, you should name how Jonathan and his people turned Boko Haram into a money-making industry and who are his people that benefited from that industry?"