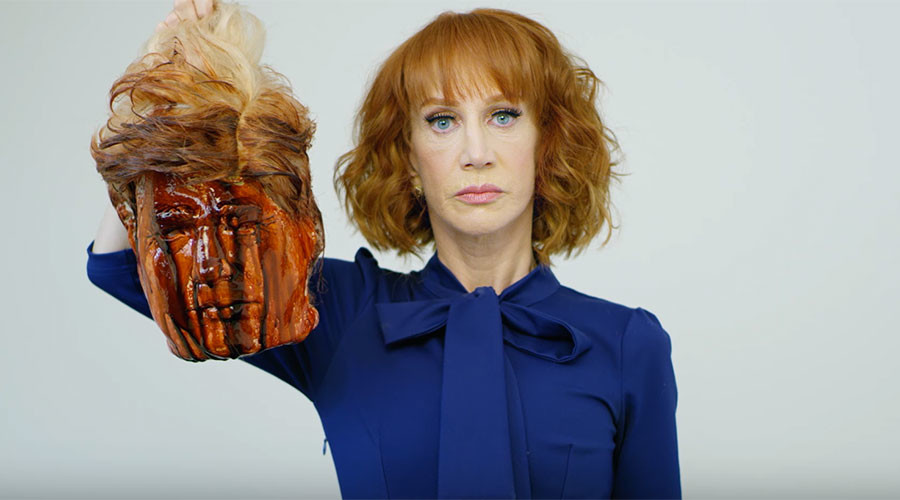 A US comedian has apologised for a photo shoot in which she appeared holding a fake bloodied head that resembled US President Donald Trump. In a video message posted on Twitter, Kathy Griffin "begged" for forgiveness and said she had "crossed a line". She said she was asking celebrity photographer Tyler Shields to remove the photo from the internet.
The gruesome image brought a storm of online criticism, including from Mr Trump's son, Donald Trump Jr.
"Disgusting but not surprising," he tweeted. "This is the left today. They consider this acceptable."
Chelsea Clinton, the daughter of Mr Trump's 2016 election rival Hillary, also condemned the image, calling it "vile and wrong".
"It is never funny to joke about killing a president," she tweeted.
Former Republican presidential candidate Mitt Romney also waded in, tweeting:
"Our politics have become too base, too low, & too vulgar, but Kathy Griffin's post descends into an even more repugnant & vile territory."
The 56-year-old Emmy award-winning actress and comedian has been a staunch critic of President Trump. In her video apology, she said:
"I'm just now seeing the reaction of these images. I'm a comic, I crossed the line. I moved the line and then I crossed it. I went way too far.

"The image is too disturbing. I understand how it affects people. It wasn't funny, I get it. I beg for your forgiveness."