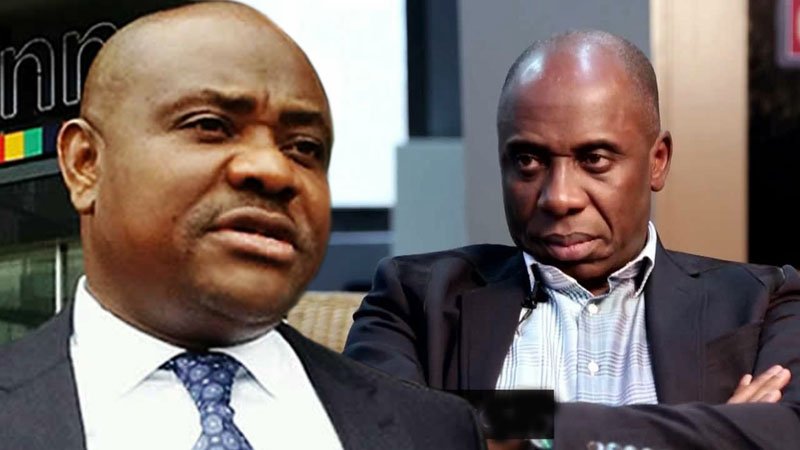 Former governor of Rivers state now Minister of Transport, Rotimi Amaechi, has described Governor of the State, Nyesom Wike as "cry cry governor."Amaechi said during his administration as Governor, the then President molested and harassed him with soldiers and police, yet he did not complain.
Amaechi insisted that the All Progressives Congress, APC is not ready to rig elections in the state, adding that President Buhari will never allow such.The Minister said the coming governorship and other elections in the state will be fair and free while accusing Wike of masterminding election mal-practices during the last government of Goodluck Jonathan.He said this when he met members of the All Progressives Congress, APC in Eleme kingdom, Rivers State.
"Fight for your right. I fought for my right (during the Jonathan's administration) when the President was molesting and harassing me, I got up, mobilized Rivers People and we fought for our right.We would not have won Rivers governorship because they rigged everywhere, wrote results and brought army and police to chase us away.Now there will be voting. They shouting and crying 'police o, army o; INEC o just because they are scared of what they did to us (APC).
"President Buhari will not allow that happen. He will not allow any police man to stop anyone from voting.That person is there shouting 'INEC, police' while he was inside INEC building the day of election and they were writing results and we didn't complain. Now he is shouting 'INEC o, police o' because he is afraid.But we'll follow the law; we shall vote on that day and get our people to vote for us. If we win, we thank God.If he wins, we thank God. It will be free and fair. Let him stop crying because its too early. When a man starts crying, it means he is afraid.Did I cry about President Goodluck Jonathan? I didn't cry, I came out to fight for my right. But this man is crying because of ordinary one police CSP every day. What do you call him, 'cry cry governor.' He is a governor with one agenda, namely 'Amaechi.' He sleeps and wakes he dreams of Amaechi. He has no adviser. He sees me in his dreams. You know I'm a Catholic, there are powers they gave to us to fly at night to go and meet them."