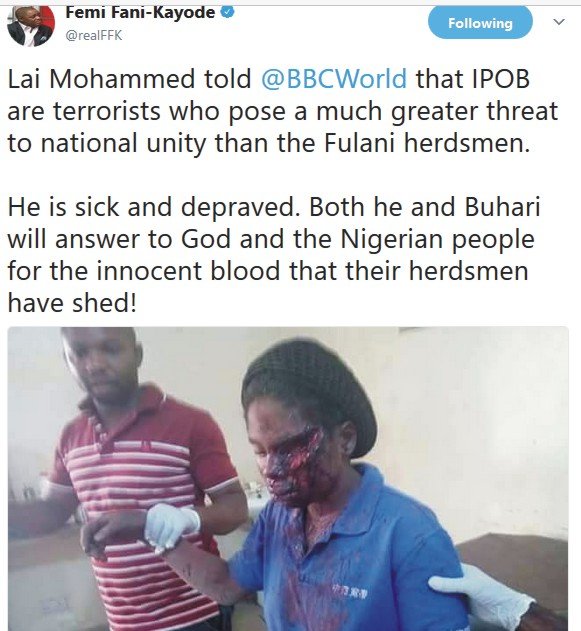 Former Aviation Minister and Senior Advocate of Nigeria, Chief Femi Fani-Kayode has lashed out at the minister for information and culture, Lai Mohammed for the statements he made on BBC World. Mr. Lai told BBC that Indigenous People of Biafra, IPOB posses more threat to Nigeria's National Security that Fulani Herdsmen.
In Chief Kayode's reaction via his Twitter handle, he said and I quote;
Lai Mohammed told @BBCWorld that IPOB are terrorists who pose a much greater threat to national unity than the Fulani herdsmen. He is sick and depraved. Both he and Buhari will answer to God and the Nigerian people for the innocent blood that their herdsmen have shed!
Boko Haram bombs its victims whilst the Fulani herdsmen cut theirs to pieces. Dont be fooled: the same hidden hand controls the two. Who refuses to arrest Fulani herdsmen? Who said "an attack on Boko Haram is an attack on north"? Who said it was wrong to proscribe Boko Haram?