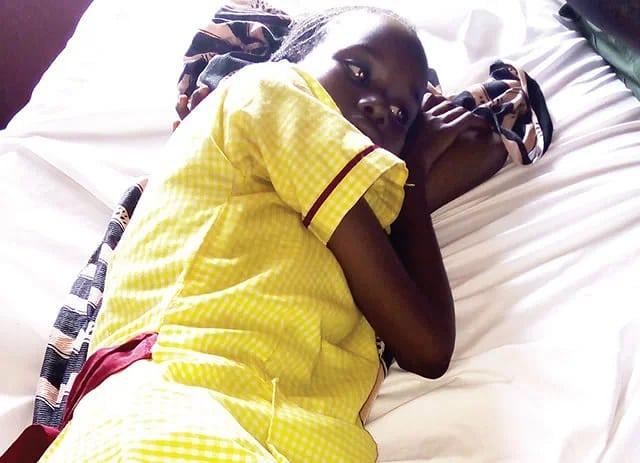 Leo Hassan is the father of 11-year-old Emmanuel Hassan, one of the pupils at the Local Education Authority School, Kubwa, Abuja, said to have died of meningitis. He tells the Punch that the family suspects foul play
What was Emmanuel's position among your children?
He was my first son.  I have two girls and two boys. He was the elder of the boys. He was 11 and we are from the Kachia Local Government Area of Kaduna State.
When did you notice that he was sick? 
He was not sick. This was a boy who went to school on Tuesday. But on Wednesday, he woke up late and he was not prepared to go to school. He said that if he went, he would be punished by his teachers. I said to him; since you cannot go to school, take your younger brother to school and they went together.
By 11am, he was not back from the school. Before he came back, we all heard rumours that someone shared biscuits in the school and parents were rushing to take their kids away. But when he eventually came back, there was no sign that anything was wrong with him.
I initially went to the school and saw parents running to pick their kids from the school. I even told them to be calm that nothing bad would happen. Around 5pm when I came back to the house, I entered the sitting room and I met them watching the television. But as he was watching the television, I saw how he reacted. I asked him if nothing was the problem. He said no.
Another time before evening, he said he wanted to sleep. I still asked him if there was any problem. He said nothing. I asked him if he ate out of the biscuits shared when he went to school, he did not answer me. After some minutes that we spoke, he suddenly held his stomach and shouted, "My stomach, my stomach". That was all. We rushed him to the Kubwa General Hospital where he was confirmed dead. I think he arrived at the school when the biscuits were being shared. The younger brother had already been taken inside the class.
But the Federal Capital Territory Administration said the pupils died of cerebrospinal meningitis. How do you react to that?
Meningitis? How can the government say it is meningitis? Although I am not a doctor, I know that meningitis has symptoms and it does not kill suddenly. This was what my son said to me when he was about to collapse. He said, "Daddy, they said it is my turn. Pray for me, let me sleep." And that was all. I still wonder what he meant by that statement. It can never be meningitis. When some things are wrong, let the government investigate.
Are you saying the government is wrong?
How would a boy who did not show any symptom suddenly collapse and die and you say it is meningitis? My son was in Primary 5. I believe it was not meningitis that killed him. We rushed him to the hospital and when we got there, we had not even come down from the car. A doctor and two other workers came and they did not even ask us what was wrong. They just tested him with a stethoscope and said he could not breathe again. I said so what would happen sir? The doctor looked at me and said, 'I said your son can not breathe again'. He was stylishly confirming to me that Emmanuel was dead.
Have you ever seen anyone in the neighbourhood down with meningitis?
I am familiar with meningitis. I had once experienced that pain. If meningitis infects someone, the head would not be stable and the neck would be stiff. I can swear by my life that my son did not have meningitis. I know what I saw.
Have the government officials visited you?
Yes, they came on Thursday. I explained all what I told you to them. I did not hide anything. They said they would be  back to tell us the next line of action, but I have not seen anyone since Thursday. We kept the boy from being buried till now. I'm disappointed that the government has not showed up again as promised. They collected my mobile number and even promised to call, but they have not done so. The Chairman of the Bwari Area Council also came to visit us along with officials of the FCTA.
What about the late boy's mother? 
She cannot talk to anybody presently. She is inside the house. She is still in trauma.