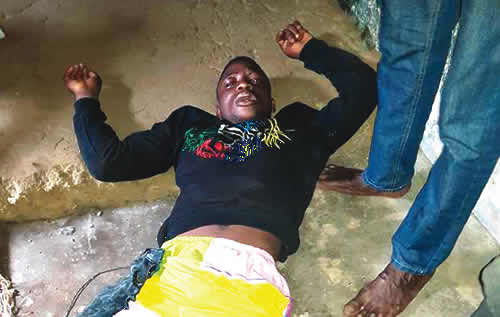 There was pandemonium in the Akala and Idi-Oro areas of Mushin, Lagos State, on Tuesday when some hoodlums clashed with policemen from the Area D Command.
During the mayhem, no fewer than five people, including a policeman, three residents and a pupil, were reportedly killed. Trouble started when a police team raided a shop  on Elegba Street, where some hoodlums sold hemp.
PUNCH Metro gathered that the hoodlums attacked the policemen with broken bottles and stones in retaliation.
The cops, who retreated, reportedly returned with reinforcements and engaged the hoodlums in a gun battle.
A witness, who spoke on condition of anonymity, said the police shot tear gas canisters into two private secondary schools –Ansarudeen Comprehensive College and Amazing Grace Secondary School – where some pupils were choked.
A pupil of Amazing Grace,  Samuel Okechukwu, who was asthmatic, reportedly died.
He said, "The police had been raiding Akala and Idi-Oro for some weeks now and carrying away bags of hemp. The hoodlums believe that the police resell them. They had been planning to fight back.
"Last night (Monday), a man on Elegba Street took delivery of hemp worth N7m and the police got information about it. Around 11am, the policemen, led by the Area Commander, Area D Mushin, Akinbayo Olusoji, headed for the shop and seized the hemp.
"The residents, who had been enraged by previous raids,  mobilised and launched an attack. They threw stones, broken bottles and other items at the policemen.
"The policemen returned with reinforcements. Three people were shot dead. They fired two tear gas canisters into Ansarudeen Comprehensive College on Alhaji Lasisi Street and another one entered into Amazing Grace Secondary School on Elegba Street. Many of the pupils were affected. A boy died in Amazing Grace."
PUNCH Metro learnt that the victim, Okechukwu, who was in Junior Secondary School two, was confirmed dead in a hospital.
Another pupil, who was running home in the confusion that followed the shootout, was reportedly hit by a vehicle. His leg was broken.
A source faulted the police for shooting tear gas into the schools.