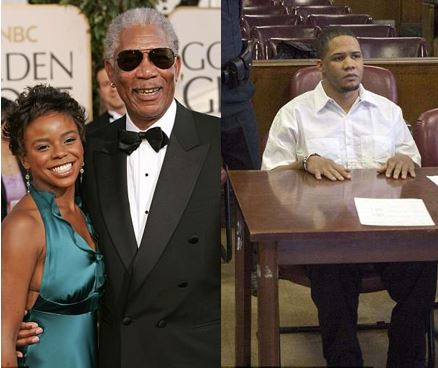 Attorneys representing the man accused of slaughtering Morgan Freeman's step-granddaughter stated in court on Friday that the victim had told the defendant that the Oscar winner had a sexual relationship with her.
The bombshell revelation concerning the Shawshank Redemption star and E'Dena Hines, 33, came to light during the ongoing trial of 30-year-old Lamar Davenport, who is accused of stabbing her 25 times in a drug-fueled rage in 2015.
'E'Dena Hines disclosed to Lamar Davenport and others that her grandfather engaged in a sexually inappropriate relationship with her,' Davenport's lawyer Annie Costanzo told the court.
It is not clear at this point why the defense chose to disclose this information in open court, or how it might be relevant to the murder case.
But a therapist testified that Davenport admitted to frequent arguments with Hines about infidelity during which each accused the other of being unfaithful.
Hines was the biological daughter of a woman Freeman and his first wife adopted as a child.
They were not related by blood.