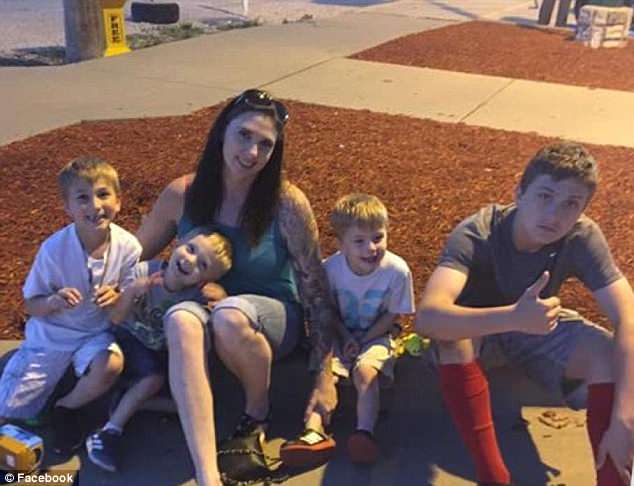 A Missouri mother was held back and forced to watch her home burn down as her four children perished inside early Thursday morning. 
The deadly fire engulfed the Lake Ozark, Missouri home at 1am Thursday. Mother Tina Brazil was out with her boyfriend Mike Andrews and left her three young children in the care of her eldest son Tyler Otto, 14.
When she arrived home and saw the inferno she went 'beserk' and firefighters had to restrain the couple from rescuing the children inside the burning building, saying that the blaze was too dangerous.
'My children! My kids! My kids!' she screamed'
Boyfriend Andrews tried to enter the home to rescue the children and had to be restrained by five firefighters. The four children Tyler, Carson Otto, eight, Max Otto, five, and Levi Otto, four, were inside during the fire. Fire officials said the children and two pets were found dead inside. Neighbor Eddie Helt discovered the fire when he woke up just before 1am smelling smoke. He then alerted his wife to call 911.He tried to enter the house but was buckled back by the intense heat.
'There was nothing you could do,' Helt said on the somber disaster.
The cause of the fire is under investigation, but officials do not suspect arson. It is unclear if the residence was equipped with working smoke detectors. Local police said the deceased boys' parents will not be charged in the deadly fire