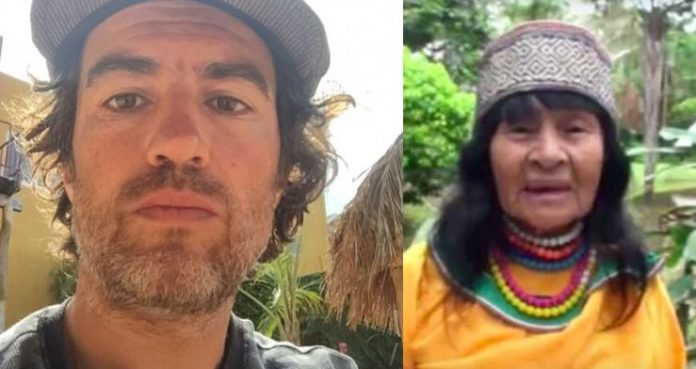 A Canadian man studying hallucinogenic medicine in the Amazon rain-forest has been killed by a Peruvian mob, who blame him for murdering a respected elderly shaman.
Sebastian Woodroffe, 41, traveled to Peru to study natural medicine and to seek enlightenment.However his journey towards 'deeper meaning' took a dark turn when he allegedly shot Indigenous healer Olivia Arevalo Lomas, 81, dead.Arevalo, a member of the Shipibo-Konibo tribe in the village of Victoria Gracia in northeast Peru, was killed on Thursday by two fatal shots.
The beloved shaman ran a lucrative healing center that offered ayahuasca – an Indigenous hallucinogenic mixture – to Westerners, according to CBC. Woodroffe is believed to be one of her patients.Peruvian authorities describe Woodroffe as her killer. Woodroffe was lynched by people of the Ucayali region of the Amazon rain forest who blame him for the healer's death that same day.
Peruvian police said the Canadian man was brutally dragged by the neck through the rain forest. A cellphone video released by local press displays a man covered in blood believed to be Woodroffe begging for mercy as he was dragged by a rope around his neck between thatch-roofed homes.
He is last seen in the video motionless on the muddy ground.On Saturday officials dug up Woodroffe's body from an unmarked grave in the forest 0.6miles away from Arevalo's home.Ricardo Palma Jimenez, the head of the group of prosecutors in Ucayali, said that no arrests have been made in relation to Woodroffe's death.
'We will not rest until both murders, of the Indigenous woman as well as the Canadian man, are solved,' he said in a phone interview to Reuters. The hallucinogenic cocktail, also known as yage, is a centuries old recipe used by Indigenous tribes in Brazil, Peru, Ecuador, and Colombia as a cure for a variety of ailments.
It is not known to lead to violence.However in 2015, a Canadian fatally stabbed a fellow tourist from England after the two drank ayahuasca together in a spiritual ceremony a few hours' drive from where Woodroffe was killed.