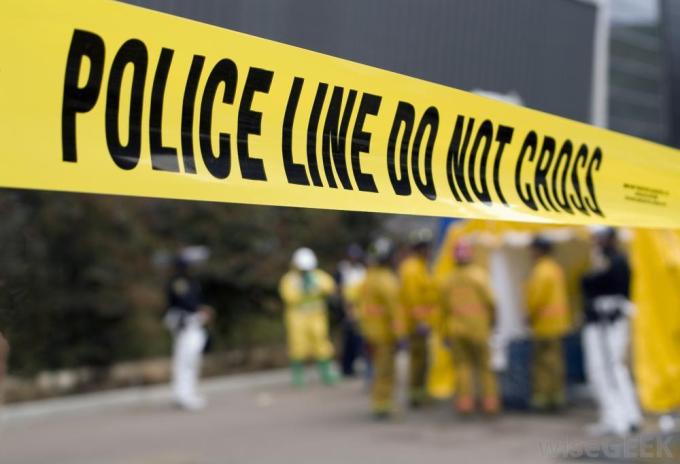 The police in Ogun State have arrested an Abuja-based computer engineer, Oladeji Hamzat, for allegedly stabbing his childhood friend, identified simply as Bayo, to death.
The violence followed an altercation that reportedly ensued between them at a bar – Hummes – in Agbado, in the Ifo Local Government Area of the state. The duo and others were celebrating with a friend, identified only as Owoseni, who was marking his birthday at the bar around 10pm on Friday.
It was gathered that Hamzat arrived late at the event and greeted friends he met at the bar one after another.
After some minutes, Bayo was said to have confronted him for not according him the regard he gave other friends.
In the ensuing fight, Hamzat allegedly stabbed Bayo in the neck, throwing the bar into a commotion.
Our correspondent gathered that the victim was rushed to three hospitals before he gave up the ghost at the Ifako-Ijaiye General Hospital, Lagos.
A team from the Agbado Police Division, led by the Divisional Police Officer, CSP Sunday Omonijo, responded to a distress call from the bar and arrested Hamzat.
A police source told PUNCH Metro that eyewitness' accounts showed that the violence stemmed from an argument over greetings.
"Bayo and other friends were at the bar when Hamzat arrived. He (Hamzat) greeted other friends. While the birthday celebration was on, Bayo challenged him that he shunned him when he arrived at the bar. That led to the disagreement and he stabbed Bayo with a broken bottle. Their relatives said they were childhood friends," the source said.
35-year-old suspect, who hails from Abeokuta, Ogun State, said he did not know how Bayo was stabbed.
He stated that the deceased approached him after he (Bayo) was allegedly drunk, asking why he (Hamzat) had not been around for a long time.
Hamzat, who claimed he could no longer remember Bayo's face, said he shunned him and continued to have fun, adding that he was at it when the victim confronted him again.
He said, "I am a computer engineer and work in Abuja. I arrived here (Ogun State) on Thursday to visit my parents who live in Adiyan, in the Ifo LGA, and I lodged in a hotel at Agbado. On Friday, I attended Owoseni's birthday. He (Bayo) came to where I was sitting and asked me where I had been all the while. I could not remember where I knew him.
"He came to meet me again and his friends cautioned him and said that was how he misbehaved whenever he was drunk. It was like he was looking for trouble. He confronted me again, smashed a bottle and attempted to stab me. I used my hand to block him and I started bleeding in the hand.  I rushed outside with the blood. People started to beat me up. That is all I know. I do not know how he was stabbed in the neck."
The Ogun State Police Public Relations Officer, ASP Abimbola Oyeyemi, said the case had been transferred to the Homicide Section of the State Criminal Investigation and Intelligence Department for further investigation and prosecution.
"One Chinedu reported the case at the station. We do not know what led to the fight. The suspect stabbed the victim in the neck at a bar. He was rushed to a hospital where he died. The suspect has been arrested," he added.
PUNCH