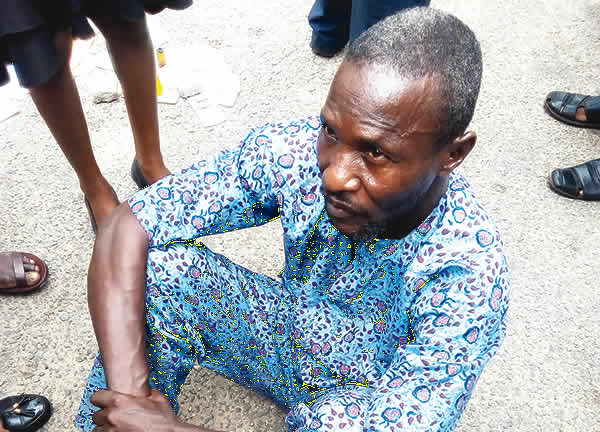 A security guard in Obadore, in the Igando/Ikotun Local Council Development Area of Lagos State, Taiwo Oyelabi, has been arrested by the police after allegedly raping  his daughter for seven months.
The 50-year-old reportedly impregnated the 21-year-old daughter while the incest lasted.
Oyelabi and the victim's mother divorced when she was two-year-old.
Before the separation, they had had a set of twins together which included the victim.
It was learnt that Oyelabi's younger sister took custody of the twins and she later travelled to Cote D'Ivoire with them.
Our correspondent gathered that the victim relocated to Nigeria about seven months ago and started living with her father.
It was said that some residents of Community Road, Obadore, where the suspect and his daughter lived, got wind of the incest and reported to the police.
The Lagos State Commissioner of Police, Imohimi Edgal, who paraded Oyelabi on Monday at the command headquarters in Ikeja, said the report was found credible after an undercover investigation was conducted.
The CP said people became suspicious of Oyelabi as he always took his daughter along whenever he was going for his night work.
"The suspect divorced his wife when the twins were still infants. The twins were taken to the suspect's younger sister. However, sometime in November 2017, the suspect took the now grown daughter from his sister and brought her home to live with him.
"The suspect had been having sex with his daughter and the result of this unholy alliance is pregnancy. The suspect blamed the devil for his act."
Edgal added that the suspect would be charged to the Special Court for Sexual Offences in Ikeja.
Oyelabi, while confessing to the crime, told PUNCH Metro that he slept with his daughter five times.
The native of Ejigbo, Osun State, said it was the daughter who tempted him into the act, adding that he was not responsible for the pregnancy.
He said, "Her mother and I separated when she and her twin sister were two years old. My sister took them to Cote D'Ivoire. Seven months ago, my sister sent her back to Nigeria.
"She started living with me. One day, I was relaxing at home when she suddenly grabbed me and forcefully kissed me. I tried to beat her, but I did not know what came over me; I had sex with her.
"I went to a church and explained what happened to a pastor. He said some evil persons were after us and that I had to be prayerful. I slept with her five times. It was my landlord who reported the case to the police.
"I didn't meet her as a virgin. She told me that she had a boyfriend who also slept with her. She said it was the boyfriend that impregnated her."