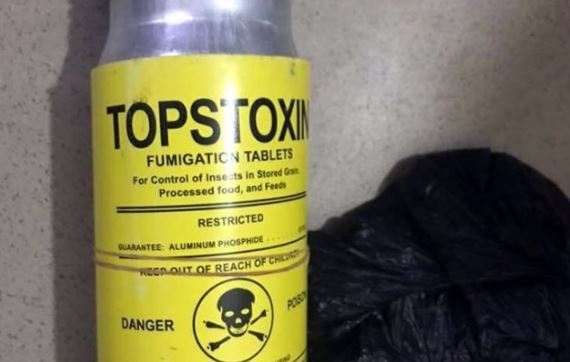 According to Adomonline, the family arrived at the hospital with severe respiratory problems, hours after inhaling the deadly substance called organophosphate, found in a product called Topstoxin.
Topstoxin is a fumigation tablet for the control of insects in stored grain, processed food and feeds.
The substance, also known as AlP, is used as a rodenticide and insecticide and a fumigant for stored cereal grains.
Experts say it is used to kill small verminous mammals such as moles and rodents.
The parents said they purchased the poisonous substance based on recommendations from a friend after they had unsuccessfully tried to get rid of insects with regular sprays.
The mother of the deceased children sprayed the rooms and stayed away for six hours before returning home. The parents told the medical team that instructions on the bottle advised users to stay clear of the sprayed areas until after five hours.
On reaching home after six hours of using the chemical, the bereaved father began feeling sick and so sought medical care and returned home only to find his wife and children finding it difficult to breathe.
The father, who was still feeling weak, sought help from neighbours, who rushed the entire family to the hospital.
Despite putting the children on oxygen to aid their breathing, they died shortly after.
The hospital detained the parents for observation but they were discharged on Saturday and have been asked to report to again for a review.
Health authorities are currently investigating the source of the chemical.
The names of the parents have not been released.
A hospital source who pleaded anonymity was quoted saying,"We cannot release the identities of the parents and the deceased children because we are bound to respect their private space."