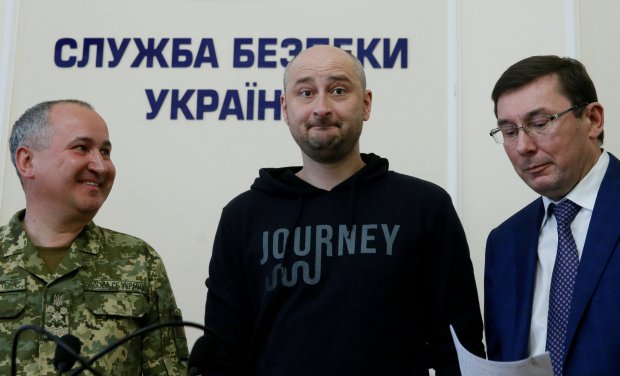 Footage has emerged of the moments journalists found out that their colleague Arkady Babchenko had not actually been murdered. They believed that he was dead as a result of an elaborate plot by Ukrainian authorities to fake his death.
Ukraine is now trying to justify the actions saying that there was a Russian plot to kill him. Less than 24 hours earlier, Ukraine said the reporter had died from three gunshots to the back in the stairwell of his apartment building in a contract-style killing in a case that provoked an outpouring of grief and a diplomatic spat.
His colleagues were not aware of the plot and were delighted to hear that he was alive
'Thanks to this operation we were able to foil a cynical plot and document how the Russian security service was planning for this crime,' security service head Vasyl Grytsak said at the press conference.
Grytsak announced authorities had arrested the alleged mastermind of the plot, saying a Ukrainian citizen named only by the initial G. had offered to pay a hitman to carry out the killing after being recruited by Russian special forces and paid $40,000. Ukrainian President Petro Poroshenko later met Babchenko and wrote triumphantly on Facebook that 'millions of people are celebrating' the journalist's new lease of life.
The reporter, however, apologized to his wife for putting her through 'this hell she had to live through for three days…but there was no other option'. He later defiantly promised on Twitter to 'die at 96 after dancing on Putin's grave'. 'God, it got so boring being dead,' he wrote. 'Good morning.'