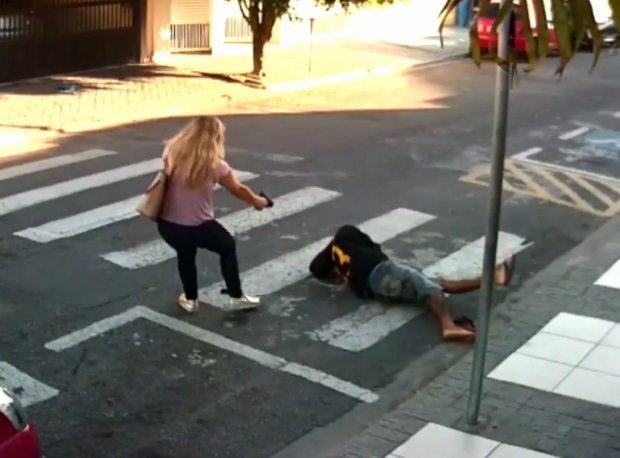 A man has been shot dead during a foiled robbery on a group of mothers and their young children. Elivelton Neves Moreira, 21, targeted the group outside a school in Sao Paulo, but one of them was an off-duty cop dropping off her child.
Security cameras filmed the incident which took place on Saturday morning at around 8am at Ferreira Master school where they were attending a Mothers's Day party. Military police officer Katia da Silva Sastre, 42, has been commended for her actions after she shot three times at Moreira who later died from his injuries in hospital. The gunman pointed his .38 revolver at the mothers and threatened the school's security guard, taking his wallet and phone.
Aware of a commotion, Katia pulled her police-issue gun from her bag, loads it quickly then fired three rounds, hitting Moreira in the chest and leg. He managed to fire two shots, but one missed and the other jammed in his gun.
The officer, who had gone to the event with her seven-year-old daughter, told colleagues: 'I didn't know if he was going to shoot the kids or the mothers or the security guard at the school door. 'I just thought about defending the mums, the children, my own life and my daughter's.' The mum of two, who has served as cop for 20 years, added: 'I had to act quickly to end his aggression and prevent him from harming anyone. I reverted to the training I have received in the corporation.
'It's gratifying to have been in the right place to have saved all our lives,' she added revealing she was first warned of the danger when a woman, in a grey dress, hurriedly walked past and pointed backwards saying a robbery had just taken place behind her. Her husband, military police lieutenant André Alves said to Folha de Sao Paulo: 'The suspect's gun fired once, but it is not known whether or not it was before Katia fired.
'The first shot ricocheted and got lost. On his second attempt at firing, the weapon locked. Thankfully she was faster than him, because when a thug discovers (their opponent) is a police officer, he shoots to kill.' The policewoman was commended for her bravery in a ceremony as Brazil celebrated Mother's Day on Sunday.