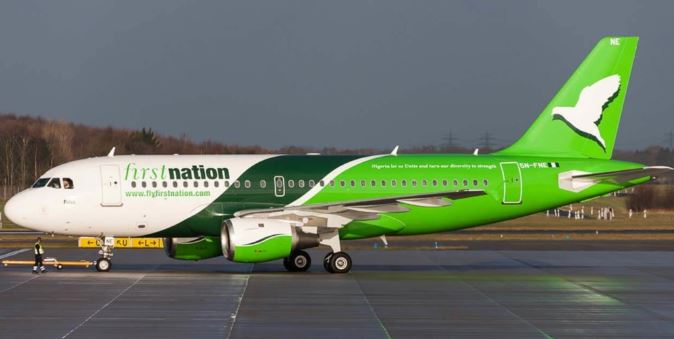 The Nigerian Civil Aviation Authority has announced the suspension of the Air Operators Certificate of FirstNation Airways indefinitely.
The NCAA said on Sunday that the suspension was conveyed to the airline via a letter with reference no. NCAA/DG/CSLA/RM/1-06/18/2304 dated May 11, 2018, and signed by the Director-General, Capt. Muhtar Usman.
According to the NCAA, the airline has acknowledged the receipt of the letter.
In a statement signed by the General Manager, Public Relations, NCAA, Mr. Sam Adurogboye, the regulator stated that the suspension was sequel to the flagrant and continuous violation of the terms and conditions of the issuance of its AOC by the carrier, thereby carrying out unauthorised and illegal operations.
Adurogboye stated that when the AOC of FirstNation Airways expired, the airline did not have at least two airworthy aircraft capable of servicing its approved schedule as required by Part 9.1.1.6(b) (2) (ii) of Nigerian Civil Aviation Regulation (Nig.CARS), 2015.
He said, "Consequently, the airline's Air Operators Certificate was, upon renewal, restricted to non-scheduled operation (charter) only. However, FirstNation Airways embarked on scheduled operations with continuous advertisement of its services and sold tickets at its check-in counters in Lagos and Abuja airports.
"The NCAA had earlier notified the airline that it was investigating these violations. Subsequently, by a letter dated 31st of August 2017, the airline was directed to stop the illegal operations forthwith, warning that failure to desist would lead to a suspension of its operating authorisation."
He added that upon further investigation, it was discovered that the airline had disregarded all warnings and continued with the unauthorised and illegal operations in violation of its AOC terms and conditions of issuance.
He added that anytime the airline demonstrated ability and willingness to comply with the extant regulations, the NCAA would review its suspension and restore the AOC to enable it to commence operations.
FirstNation Airways had in August 2017 switched temporarily from offering scheduled flights to charter services, following a reduction in its fleet size.
Usman, who disclosed the development to journalists at the time, said the airline's non-scheduled status would remain so until it improved its aircraft fleet to at least two and meet the requirements for scheduled services.