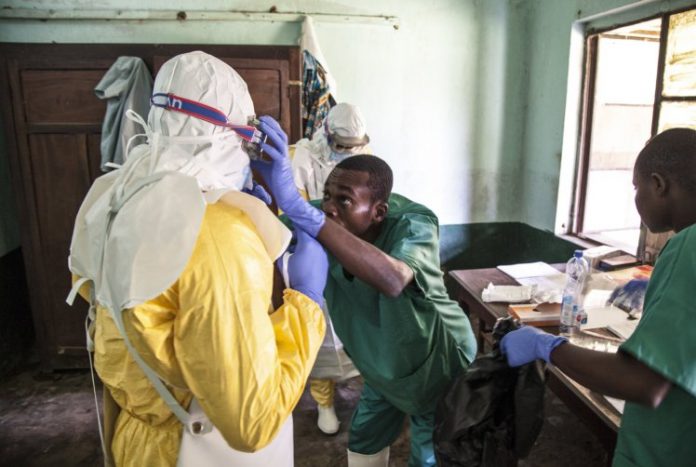 Wife of the Senate President and founder, Wellbeing Foundation, Mrs. Toyin Saraki, has called on the government to scale up border surveillance to curtail the possible spread of the Ebola Virus Disease (EVD), into the country.
Saraki, who made this known over the weekend at the maiden edition of 'Walk for Health Challenge', organised by the World Health Organisation (WHO) in Abuja, maintained that Nigeria was still at risk of contracting the Ebola Virus.
"We are sufficiently now sensitised in Nigeria but we must not rest on our oars. We do have to step up border surveillance to ensure that we know what is going on and who is coming in.
"I have every confidence in the Nigeria Centre for Disease Control (NCDC). We cannot guarantee that Ebola will come or not come into Nigeria, but what we can do is try to be ready and hope we do not get it" she said. While commending the WHO in providing about 5,000 vaccines in its efforts to contain the disease from further spread to areas not affected in the Democratic Republic of Congo, she urged the citizenry to imbibe a high level of hygiene, especially consistent hand washing with soap both in schools and public places. "We are all ready to work with the NCDC when they bring out their advisory.
One thing we can do is to make sure we have hygiene in our schools, our offices and in our environment," she added. On his part, the WHO representative to Nigeria, Dr. Wondi Alemu, noted that all necessary precautionary measures were being put in place both by WHO and the Nigerian government, to ensure Ebola does not resurface in Nigeria. "There are preparations from Nigeria.
We are working with the Ministry of Health particular NCDC. We are preparing ourselves and also making the necessary precautionary measures to prevent Ebola from coming into the country." Alemu also urged all Nigerians to imbibe the habit of regular exercises and other healthy activities aimed at promoting a healthy lifestyle.