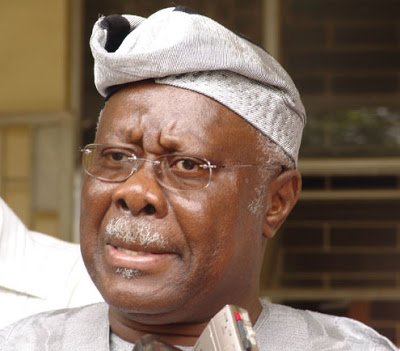 A former Deputy National Chairman (South) of the People's Democratic Party, Olabode George, on Monday said he was extremely pained by the death of his first son, Dipo.
George spoke when the National Chairman of PDP, Uche Secondus, led other members of the National Working Committee to George's residence in Ikoyi, Lagos, on a condolence visit.Also on the visit was the Lagos State chairman of the party, Mr. Moshood Salvador, and other party executives in the state.
The News Agency of Nigeria reports that Dipo died on Thursday after a protracted illness in a Lagos hospital at the age of 42.George, his wife, Roli, and other family members received Secondus and his entourage.George said he and other family members were devastated, not only because the deceased was his first son, but also because he was a good child.
He said Dipo was a child that any father would be proud of because of his accomplishments and good ways.George said the late Dipo was very humble, as he interacted freely with everyone, irrespective of class or status.
"He was such a good person who was free with everyone and interacted with people. Dipo carved a niche for himself with his enviable accomplishments. He was passionate about the country and he constantly shared his thoughts about national issues. He was a child every father would be proud of. His demise is painful," the bereaved father said.
George, however, said that as sad as the family felt about the deceased, there was nothing they could do about the loss.He said the family would try, albeit hard, to move on after the unfortunate incident.George said he and his family trusted in God to grant the deceased son peaceful repose.He thanked Secondus and other NWC members for the visit.
George said the show of support to him and his family had strengthened his belief in PDP as one big family.He explained that his commitment to the PDP was total and that he would never leave the party.George commended Secondus for his efforts at repositioning the party since he became its chairman.He said there would always be issues in a party with diverse people like PDP, and urged Secondus to use his position to stabilise and strengthen the party.
George also called on all members to see the PDP as their project and to work toward its progress.Earlier, Secondus said the party was pained by Dipo's death, just like the family.He described George as a prominent member of PDP, noting that whatever affects him would also touch the party.
"We share in your grief at this moment; we are with you and your family.We feel your pain. Losing a son, a first son for that matter, is always a painful thing to parents.We know the feeling in your family right now. One of the future leaders of the country is gone. We sympathise with you, " Secondus said.
He prayed for the peaceful repose of the deceased's soul and asked God to grant the family the fortitude to bear the great loss.
(NAN)