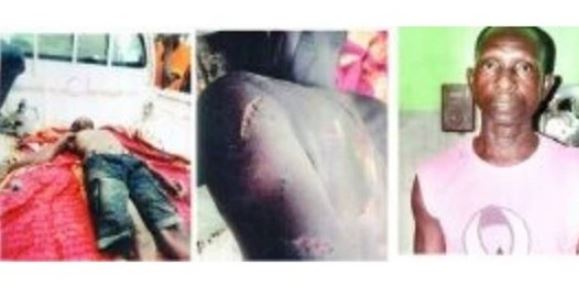 A 55-year-old clergyman, Prophet Moses Urovbu of the God Revival Prayer Ministry, based in Ughelli, Delta state have been arrested for chaining and beating to death a 30-year-old man, Monday Edjedjere, brought to his church in search of healing for his mental ailment.
According to The Sun, the prophet had placed the deceased on seven days dry fast, that is, fasting without food or water. Edjedjere was chained to a coconut tree at the back of the church during the duration of the dry fast and was constantly beaten with a holy water cane till he became too weak and died on April 2nd.
Narrating what happened, the State Commissioner of Police, Mohammed Mustapha said on March 28th, the victim, Monday Edjedjere was taken to Prophet Urovbu for prayer and healing by his mother.
According to him the church General Overseer billed the troubled mother N24,000, out of which she was able to pay N8,000 and thereafter returned to her Awsha community home leaving her son in the care of Prophet Urovbu. He further added her return to the church three days after, precisely on March 30th the woman met her son chained to a coconut tree with injuries all over his body.
When asked what transpired him and the deceased, the clergyman said
"I am the General Overseer of God Revival Prayer Ministry. I started my ministry in 1989. I have a large congregation spread across four branches of my church in Warri, Ughelli, Ewu, and Bayelsa State. I do pray for all kinds of people who are sick in my church. It was the mother of the deceased that brought him to my church because he was suffering from madness. I admitted him for prayers and billed them N24, 000 and the mother paid just N8, 000. I put the deceased on seven days dry fast. He started proving stubborn and broke the church plastic chairs. As a result, my pastors joined me and we chained him to a tree at the back of the church. The injuries on his body were sustained while flogging him with holy water cane so that he can be healed. It was when the mother discovered the condition of her son was not improving that she said I should release him to them. I refused because I can handle the situation. Unfortunately, the boy fell down, collapsed and died. On that fateful day, I still discharged five people who had similar sickness and I healed them and they are right in their houses now."
The brother of the deceased, Michael Edjedjere, reported the matter to the police immediately it was discovered that his brother had died.
"When my mother told me about the critical condition of my brother, Monday, I felt bad especially when I heard he was chained by Prophet Moses. I called Prophet Moses on phone and told him that he should release my brother to me to take him to the hospital. But the prophet refused, boasting that he will heal him. It was two days later, my mother called me that my brother is dead. I didn't believe it. I quickly rushed to Ughelli Police Station to report the case and that was how he was arrested."  Michael said
Confirming the arrest, the deputy commissioner of Police, State Criminal Investigation Department, Asaba, Wale Abbas said "Prophet Moses Urovbu is in our custody. He was alleged to have chained and beaten a sick man to death during deliverance. The corpse of the deceased, Monday Edjedjere has already been deposited at Central Hospital mortuary, Ughelli."