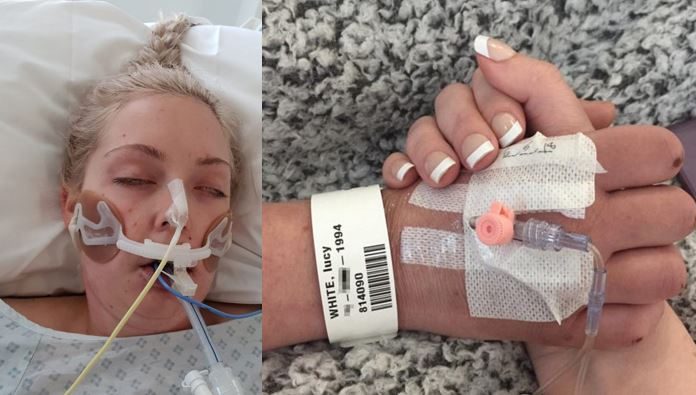 A student who had 'everything going for her' died from a seizure caused by a cocktail of cocaine and prescription drugs. Lucy White collapsed at her home in Bristol as her boyfriend cooked dinner in the next room, and was rushed to intensive care.
However, the 24-year-old's heartbroken family were first told she would be severely brain damaged, then that she was brain stem dead – and within four days, she had died. Her sister Stacey Jordan has shared photos of the criminology student and issued a loving tribute, as well as a candid warning to others about drug use. She said: 'Anyone would say she was like a sunshine – her hair was bright blonde, and she was always smiling.
'She used to be terrified of getting into trouble. She didn't even drink that much. 'I can't believe it. She tried to make a difference in everyone's life, she helped everybody – and she was just happy.
I hate what has happened so much. She was clever, and she had everything going for her until, obviously, she didn't.' In her online post, which went viral, 28-year-old Stacey shared a letter Lucy had written to her, thanking her for being there and vowing to 'repay her one day'. The University of the West of England student had previously volunteered with the Bristol Drugs Project to help addicts get clean, and was looking forward to getting her degree this summer.
But according to Stacey, she fell in with the 'wrong crowd' and ended up dabbling in drugs herself, leading to her dropping out of university and losing contact with many friends and family. Doctors told Stacey that Lucy had taken cocaine and powerful prescription drug pregabalin when she suffered a seizure on May 3.
She collapsed and boyfriend Ian O'Donoghue called an ambulance and started CPR, but her brain was starved of oxygen for more than 40 minutes. Stacey said: 'I got a call in the middle of the night and it was just my nan screaming down the phone saying 'It's Lucy, it's Lucy, she's nearly died'. 'When I got there, the doctor said a 24-year-old doesn't just collapse and have a seizure for no reason, she must have taken something.'
Shocking images show Lucy being kept alive with wires and tubes at Bristol's Southmead Hospital in the days before she died.