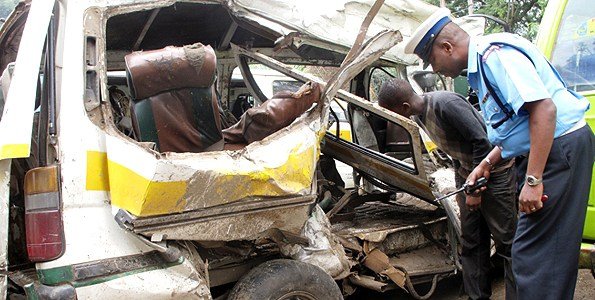 Eleven youths celebrating the Eid -El -Fitr died on Sunday in a road accident at Natsinta village along Jibiya Road, Katsina State.
The victims were reportedly crushed by a truck, which veered off its lane and overran the 504 Peugeot car they were travelling in.
Eyewitnesses said the victims had celebrated the Sallah in the Kofar Kuga area of Katsina before they left for Jibiya town with a view to joining their friends there to continue the celebration.
One of the witnesses said, "Just after the military barracks along Jibiya Road, a truck with Katsina number plate, 10B-OJKT, veered off its lane and ran over the Peugeot car."
The witnesses, who declined identification, said the truck also dragged the car for some kilometres before coming to a halt.
Ten of the victims reportedly died on the spot,  while the eleventh died as he was being rushed to the General Hospital, Katsina, by men of the Kaduna sector of the Federal Road Safety Corps, who were drafted to the scene.
The driver of the truck was said to have escaped from the scene of the accident.
Our correspondent, who visited the scene, saw what remained of the car with virtually all its parts flung along the path that the truck dragged it.
The truck's windscreen equally got damaged from the impact of the accident.
The News Agency of Nigeria reports that the Sector Commander of the state FRSC, Mr Godwin Ngueku, confirmed the incident on Monday.
Ngueku explained that the accident occurred around 8pm when the car taking the youths had a head-on collision with the truck.
He said, "The accident happened around 8pm. The vehicle, occupied by the youths, had a head-on collision with a truck. All the occupants of the car died at the scene of the accident.
"Their corpses were taken by rescue workers to the mortuary of the General Hospital, Katsina, around 9pm on Sunday.
"The family members of the victims have started picking their corpses for burial."
The sector commander appealed to parents to caution their children against uncontrolled drinking and reckless driving on highways.