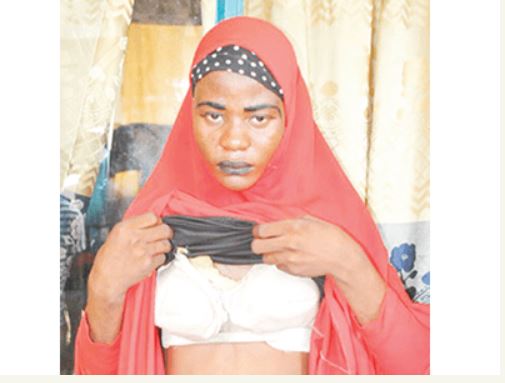 A suspected fraudster who disguises as a female on Friday confessed that, it is easier to exploit and lure men whenever he wears Hijab. It was drama at the Niger state Police Command Headquarters, Minna when the 18-year-old man, Shamsu Abubakar, of Sayeko Maitumbi Road in Chanchaga Local Government Area, confessed that men in their droves preferred him to real females.

He said
arted disguising and luring men due to the economic hardship in the country, I resorted to this act to make money and take care of my needs. "I use to lure and exploit men with my makeup, and the way I package myself. I am even surprised that, the men in Minna preferred me to real girls. "I really don't like what I am doing but it is the economic hardship which makes it difficult for me to see food on my table and that pushed me into this act."
Abubakar who claimed to be an indigene of Sokoto State but resident in Sayako community in Maitumbi told our correspondent that he dressed in Hijab to attract the attention of randy men in the city. He said: "I always asked for money from men who make advances and even exchange telephone numbers with them for easy communication and each time they call me I am sure of getting between N1000 and N2000 for recharge card only.
"I have been in this business for over six months and most times I pretend to be selling soap on the streets of Minna so that men will call me and ask for friendship." Confirming the suspect's arrest, the command's Public Relations Officer, Mohammad Abubakar, said Abubakar confessed to seducing and luring men for money by wearing hijab.
Abubakar told our correspondent that the suspect met his waterloo when police operatives attached to A Division of the state apprehended him for constituting nuisance in the streets of Minna. The spokesman said the matter would be charged to court after investigation.