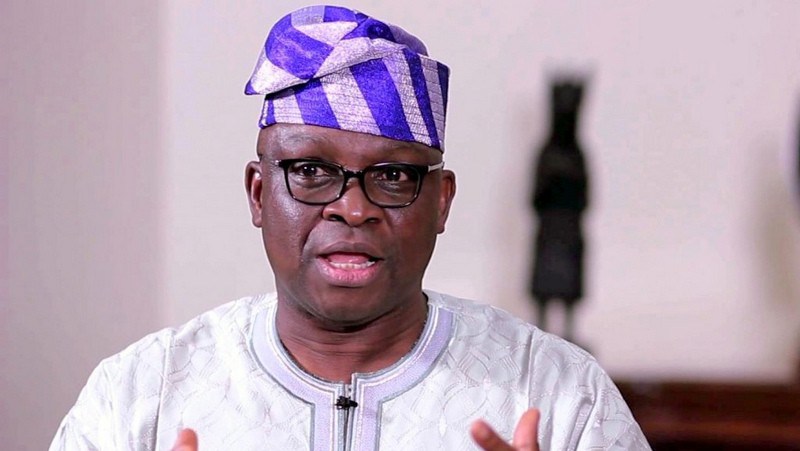 The
Ekiti State Governor,
Ayodele Fayose has said he does not trust the police and called on President Muhammadu Buhari to restructure the country so as to end insecurity.
Fayose said this at this at an interactive conference convened a Pan Yoruba Socio-cultural group, Yoruba Ko'ya, in Ado Ekiti on Thursday with the theme, "Protecting Yoruba Land." The conference examined the effects of Fulani herdsmen-farmers crisis on food security in Ekiti State and the recent upsurge in kidnappings and armed robbery in the state.
The convener, Otunba Deji Osibogun, said the conference was convened to create a virile structure for contact and mobilisation on how to safeguard the lives of Ekiti people.
He added that the conference would also discuss the management options of the Fulani herdsmen and farmers crisis among others.
At the event, Fayose called on all the Yoruba irrespective of their political interest and religion to unite to resist the invasion of the Yoruba land by external forces.
He said, "Let me say very expressly that resistance is not easy but only the courageous win. I was at Ibadan restructuring crusade organised by Afenifere in September 2017, all that I said there, I have no apology for them.
"Yoruba people should be allowed to be in right places. I want to appeal to our people that this is a collective struggle. If you say you cannot defend yourself, someone wants to cut you,…you want to wait and allow people to shoot you? Even God does not appreciate cowards."
Four people died in the hands of kidnappers suspected to be herdsmen in the last two weeks in Ekiti.
Stressing the need for community policing to fight insecurity, Fayose said the police had failed to protect the people from transgressors.
"I don't trust the police, but these people sitting are the real police; the hunters are the real police that I trust. The vigilantes are the real security; policemen are only accountable to the Inspector General of Police, not the people but the local people are the mightiest.
"Let me say this that this struggle is not about Yoruba Ko'ya, it is Ekiti Ko'ya All states should go and collate figures of herdsmen and cows in their land and bring them together.
"We must defend our land. Some of our leaders because of their political interest, they keep shut. I am a Nigerian, they should lock me up, I am not afraid; the power of the people is greater than those in the position of power. Those oppressing us today will be out of power one day.
"This is our collective struggle, the anti-open grazing law has come to stay in Ekiti. Anyone who says we should go back to darkness will die."
In his presentation, Chief Afe Babalola (SAN) said he had written several letters to the Directorate of State Services, Police and Nigeria Security and Civil Defense Corps on the need to step up surveillance across the state.