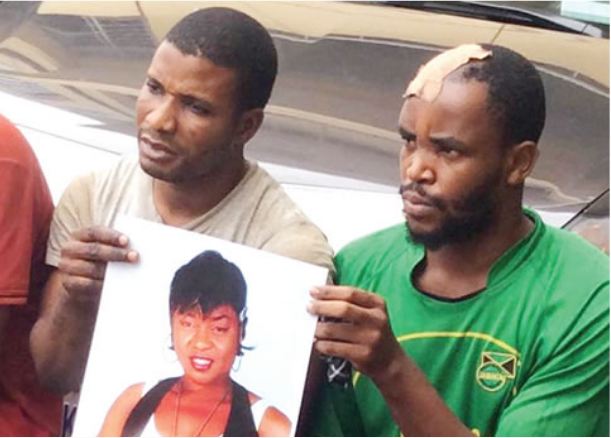 The police in Abuja have arrested a website designer, Paul Ezeugo, 27, who allegedly killed a woman, Charity Chidiebere Aiyedogbon he met on Facebook.
Ezeugo dated Mrs Charity Chidiebere Aiyedogbon for one year before he and his friend, Emmanuel Adogah, 28, murdered her on May 9, 2016 and stole her Acura ZDX Sports Utility Vehicle which was recovered in Enugu where it was hidden.The police had been on a manhunt for the two suspects since May, 2016 when Charity's mutilated body was found packaged in two sacks at a river bank in Ushafa, a satellite community in Bwari Area Council of the Federal Capital Territory, Abuja.
Parading the two men alongside other suspects in Abuja on Thursday, the FCT Commissioner of Police, Sadiq Bello, stated that Ezeugo confessed to killing the woman, who he said was his girlfriend.He explained that the principal suspect also confessed that he plied the deceased with alcohol before moving her from Yaoundé Street, Wuse to Kagini, in Kubwa where her body was butchered.
Bello said, "On June 1, 2018, police operatives attached to the Command Anti-Kidnapping Squad succeeded in arresting the principal suspect, one Paul Chukwujekwu Ezeugo, 27 years at Benin in Edo State.
"Upon his arrest, the principal suspect who has been at large since the lady's disappearance, confessed during interrogation that the mother of four was his girlfriend and that he conspired with one Emmanuel Adogah and murdered her on May 9, 2016 at about 2330hrs at Kagini."According to Paul Chukwujekwu Ezeugo, he gave her excess alcohol to consume before he moved her from Yaoundé Street to Kagini area where she was butchered and her mutilated body packaged in two sacks that were later dumped by the river bank at Ushafa, in Bwari Area Council.
"He further confessed that he killed her because he wanted to take possession of her Acura ZDX SUV and other properties. The deceased's car and some of her properties have been recovered from him."
The CP added that Adogah, who he described as a habitual criminal, equally confessed to have participated in the commission of the heinous crime.
Ezeugo in an interview said he killed the woman with a cutlass, adding that it was greed for money and her SUV that made him kill her.
He said, "I design websites for living; I was living with my uncle in Abuja when I met Charity on Facebook. On that day (May 9), I went out with her and we drank and she dosed off, so we carried her from the house to where we killed her."
Asked why he murdered the woman, Ezeugo said, "It was the devil and greed. I was hoping to get her car. I dated her for one year but she didn't give me anything, she told me she was a divorcee when we met."
Adogah stated that he assisted Ezeugo in carrying Charity into the vehicle, adding that she was half dead when he saw her.
"Paul is my friend and so when he asked me to meet him in his house and as a friend, I went there, I never knew his intention, I never knew what he was up to. I assisted in carrying the body that was all. My only role was to help in carrying the woman, she was almost half dead when I met them," he explained.
Charity's husband, David, said he would work with the police to ensure that the murderers of his wife were brought to justice, adding that nobody had any justification to unlawfully kill another person.
"Despite the negative, wicked insinuations and blackmail in the social media, we were not deterred. Today, we know what happened to Charity; two young men, Ezeugo from Orbah, Nsukka, Enugu State and Adogah from Okpala, Edo State confessed to have conspired and killed her," he stated.