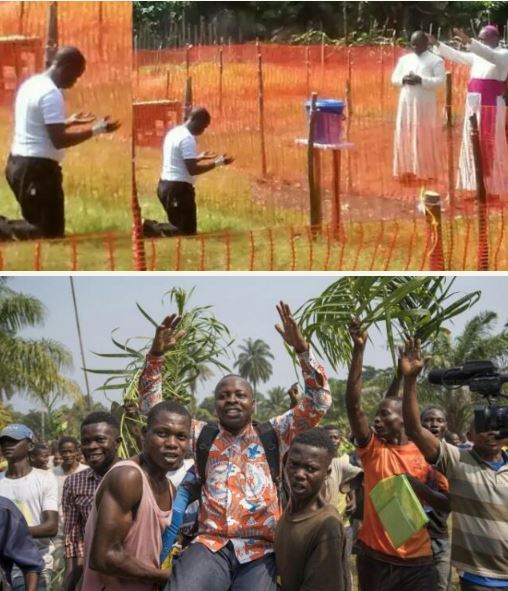 Rev. Fr. Lucien Ambunga, Catholic Priest and Pastor for the remote rural community of Itipo celebrated his first Sunday (June 10) mass since he returned to his parish on 8 June, after recovering from Ebola.
When he was diagnosed with Ebola last month, Father Ambunga was taken to the town of Bikoro where there is an Ebola treatment centre in the general hospital. He was given a clean bill of health late last month, but stayed on in Bikoro to recover further.
When he returned to Itipo on Friday he was greeted by a joyous crowd, who carried him on their shoulders and chanted "The hero this year is Courage (Father Ambunga's nickname)."
He stressed how moved he was to be back.
"I can't' explain to you now Madame. It's too much for me," said Father Lucien. "What I can say, what is in my heart, is joy. "
WHO's social anthropologist for the Ebola outbreak in Democratic Republic of the Congo, Julienne Anoko says it's important to support people who have recovered from Ebola as they return to their communities. "We need to take care of their reintegration because many of them are being stigmatized by their communities because the communities don't know, they are afraid."
Dada was among the first confirmed Ebola patients in the current outbreak to be cured of Ebola. Dada is slowly picking up the pieces of his life.
On 6 June, representatives from the Ministry of Health and Caritas Internationalis came to his home with a care package – a bucket containing food staples such as rice and sardines and household items such as soap.
Dada says he's feeling good, "For the moment, I feel very, very, strong. I don't have the virus."
His uncle is glad his nephew is doing well, "As a family member, I am happy to see my relative alive and doing well."
With support from WHO, Dada is taking catch up classes and is hoping to pass his baccalaureat exam later this month.
He said, "If I'm lucky and I get my diploma and receive support, I will continue my studies."
Local health officials say there are 14 people who have recovered from Ebola in the Itipo area and on Monday (June 11), many met with WHO's Director-General Dr Tedros Adhanom Ghebreyesus. Dr Tedros came to Itipo to observe the scaling up of the response in the community, which lies at the heart of the current outbreak.
"Not only have they survived but they are already working to save others," said Dr Tedros. "It's great that they are better and now it's important that they are helping their community. "
The people who have recovered from Ebola created an association on 11 June to provide mutual support and are helping to raise awareness of the community on Ebola prevention. Dada is working at the Saint Luke Health Facility in Itipo, where some Ebola patients are receiving care from the Medecins sans Frontieres (MSF) team in collaboration with the Ministry of Health. He is providing counseling to the patients.
Ongoing
Primary country
Democratic Republic of the Congo
Ongoing