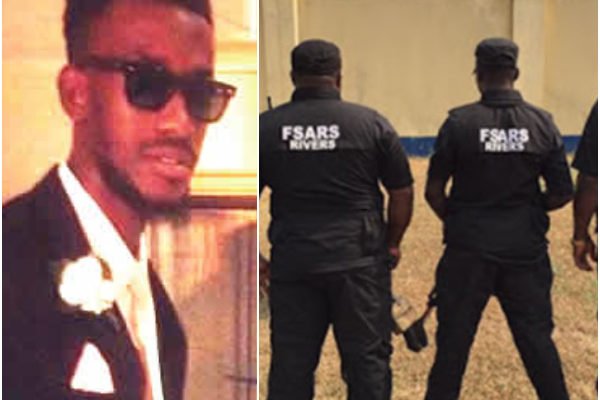 A human resources manager, Kamil Mahmud, has alleged being threatened by some operatives of the Special Anti-Robbery Squad (SARS). The 26-year-old claimed that the men threatened to drink his blood for allegedly disrespecting them.PUNCH Metro gathered that Mahmud had driven behind his brother's car to the Ikeja area for an interview on a radio station on Thursday. They were returning on Friday when three policemen allegedly accosted them at the Agidingbi area of Ikeja.  On Sunday, Mahmud said he was about parking by the roadside when the operatives cocked their guns and threatened to shoot.
He said, "I waved my hand to tell them that I was not running away and I just wanted to find somewhere to park. I was thinking it was going to be a normal civilian-police conversation. But I realised the situation was getting more aggressive even before I got down from the car.
"One of the policemen asked me to come down from the car and told my friends and my brothers, who were driving behind me, to stay back.
"I came down and he said he wanted to search the car. I told him to go ahead. But before he even tried to search, he had started manhandling me.
"He, however, searched me and the car without finding anything incriminating.
"I don't drive with my shoes on; so, when I got down, I was barefooted. I told the three officers more than five times that I wanted to get my shoes, but they looked at me with no response.
"The moment I tried to get my shoes, the policemen went berserk and started slapping and hitting me. One of them was shouting that he drank blood and he was ready to drink my blood. He pulled my shirt and trousers and threw me into their vehicle, a Sienna, without a number plate."
According to Mahmud, a passerby who wanted to intervene was threatened with a cutlass.
"I told him that he had not even asked for my name or who owned the car I was driving and what I did for a living.
He added that he had attempted to beg the officers when one of them further beat him with a cutlass.
The Edo State indigene said, "As I sat on the back seat of their car, one of them put handcuffs in my hands. They never told me what I did wrong.
"The one who assaulted me with the cutlass started the car and drove to Ikeja GRA. On getting to the Area F Police Commad, the officers refused to enter the premises and I told them that they should take me inside the station and file a report because I really wanted to know what my offence was. They shouted at me that I still had the mouth to talk.
"The officer driving had a bottle of gin in front of the car; he was drinking and driving. They later negotiated with my brothers and demanded N15,000.
"My brothers went to use the ATM at Conoil Filling Station, but the ATM did not dispense cash. Then one of the policemen got angry and started driving towards Oba Akran Road. When we got there, he parked and waited for my brothers.
"My brothers came and told them that they were able to get N8,000. They collected it, removed the handcuffs from my hand and told me to get out of their car."
Mahmud demanded the arrest and prosecution of the policemen, adding that he was robbed by the law enforcement agents.
He said the cops wore the F-SARS jackets and had guns with police tags.
The Lagos State Police Public Relation Officer, CSP Chike Oti, said, "They are not SARS officials because SARS officials in Lagos State have uniforms that have code numbers with which they can be identified easily and SARS officials in Lagos State are under the instruction of the Commissioner of Police not to conduct stop and search in Lagos State.
"However, the complainant should come forward to give us vital information about the officers, so that we can arrest whoever the people might be; but I know that they are not SARS officials."