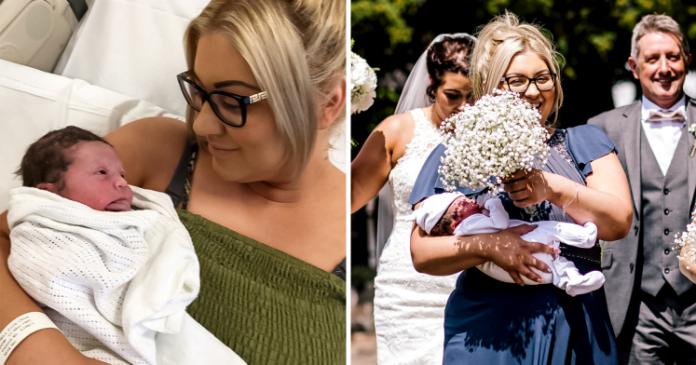 A bridesmaid made it to her sister's wedding just five hours after giving birth. 27-year-old Emily Chell went into labour three weeks early while staying at a hotel with sister Katie ahead of her big day. Last Saturday she was rushed to hospital where she gave birth to a boy, Brody, at 7.10am. Instead of relaxing and recovering after the birth, Emily was insistent that she couldn't let her sister down, and therefore travelled back to meet her ahead of the ceremony. Emily and her partner Wayne made it to the church in time with their newborn son, ready to walk Katie down the aisle.
After the wedding, bride Katie, 28, and her new husband Brett Simcock, 29, posed for pictures holding their new nephew. Emily, from May Bank, Newcastle-under-Lyme, Staffs., said: 'Brody wasn't due for another three weeks so it was really unexpected when my waters broke on Friday night.
It was a natural birth and luckily there were no complications and we went to the ward for a little rest. 'We left the hospital at 11.15am and drove 13 miles back to the wedding venue. 'We'd called ahead and someone had brought my bridesmaid dress there so as soon as I got there I put Brody in his crib and jumped in the dress. 'I was ten minutes late but people had waited for me so I walked down the aisle holding Brody. Everyone cheered when we walked in. It was a lovely moment.' Emily joked to other wedding guests that Brody hadn't wanted to miss out on the big day.