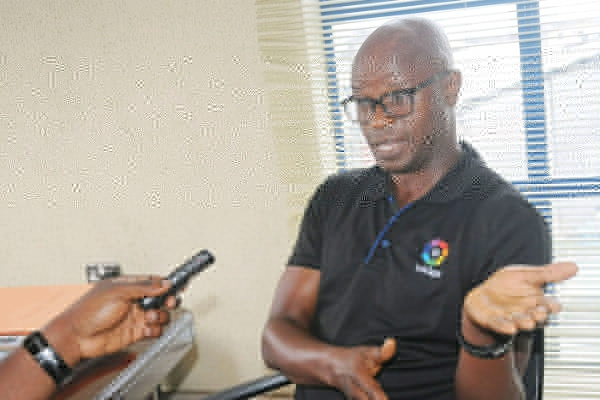 Mutiu Adepoju was a member of the famous Golden Generation Super Eagles that took Nigeria to her first World Cup appearance at USA '94. Now the Ambassador for the Spanish La Liga in Nigeria, 
HEADMASTER says the Spanish football development model is ideal for Nigerian football. 
He spoke to TUNDE KOIKI on the Complete Sports Studios radio programme, SPORTS PLANET. Excerpts…
COMPLETE SPORTS STUDIOS: It is a privilege and honour to have former Super Eagles 
international, Mutiu Adepoju on our show.
MUTIU ADEPOJU: Yes, it's my pleasure. But you have not added the "Ambassador of La Liga."
(Laughter)
I'm Sorry. It's very important! That's your new chieftaincy title. (Laughter). Truly, you are an 
Ambassador of the Spanish La Liga. Tell us what it entails?
The Spanish La Liga is the best league in the world. I am proud to say it anywhere because I have played in La Liga and I know what it is, how it feels and the passion of the fans. So I'm very happy to be part of La Liga program in Nigeria after my playing career and it is a great honour to be made the ambassador.
Sentiments apart, we all know the impact of La Liga in world football and for them to come to Nigeria to
partner the NPFL is indeed something to be proud of. It's been two years now and it entails a lot of things which have been done and will still be done to the benefit and development of football in Nigeria.
For those who are probably listening and are too young to know about your sterling football career in Spain, can you please tell us the clubs you played for in La Liga during your playing career?
Firstly, after representing Nigeria at the FIFA U-20 World Cup in Saudi Arabia in 1989, I was signed on
by Real Madrid. I was part of the Castilla team which is the Real Madrid second team where I spent three years…
Did you ever play for the Real Madrid first team all this time?
I played in some friendly games for the Real Madrid first team and did pre-season training with them.
Back then, only three foreigners could play in the first team and they had the best of the foreign players
which made it very difficult for me to break into the main team.
Who were your Real Madrid teammates back then?
Then we had players like Emilio Butragueno, Mitchel, Hugo Sanchez, Fernando Hiero who was coach of Spain during the 2018 World Cup, Luis Enrique who is the current coach of Spain, Martin Vazquez, Manuel Sanchis and others were all first team players with Madrid back then.
When you left Castila where did you go?
I went to Racing Santander where I spent four years. Incidentally, when I was in Castilla I played against
Santander where we defeated them 4-0 in the second division. I scored 3 goals in the game and the
following year they signed me on. From there I went to Real Sociedad where I also spent 4 years.
What are your most-cherished moments while playing in the Spanish La Liga?
I will say all my time in the Spanish La Liga were memorable. At each clubs I played, I experienced lots
of good times and I learnt a lot of things. For instance, I was the record tranfer player at Santander which put me under a lot of pressure. I did get over it and went on to do great things at the club and I had a Fans Club there.
At Sociedad, I helped the club to get to the second or third place in the league which qualified
us to play in the UEFA Cup back then.
Are you still in contact with your old clubs, Racing Santander and Real Sociedad?
Yes. Former captain at Santander back then actually called me a few days ago and we chatted. Also,
 recently I was speaking with former Sociedad captain, Loriente who until last year was the technical director of the team. We were generally talking about the good old days.
 Legend has it – and you have to confirm if it is true or not – that you once got into a fight on the pitch
with the current coach of Athletico Madrid, Diego Simeone who is one of the most volatile character
you can find on the pitch?
(Laughter) Yes, it wasn't a fight really but we did tussle on the pitch. Simeone was in Sevilla then while I was in Santander and during a game we were involved in a tackle. He then tried to bully me but I didn't allow it because I was aware of such antic which was to intimidate me. So we had an altercation and I had to pull his shirt and gave it back to him the way he did to me. It was stuff that we see during tough football games which are afterwards forgotten.
In the history of La Liga, only few Africans players have ever truly really stood out. You can talk of
Samuel Eto'o, Yaya Toure and to some extent Jeremy Njitap. Nigerians have never truly made their mark in La Liga. Why is it so?
I think during our time, some Nigerian players did make their marks in the Spanish La Liga. If you remember, Finidi George made a good impact with Real Betis, Emmanuel Amuneke was with
Barcelona doing well before he was bogged down by injury. Ike Uche also did well in the La Liga and I
was an impact player myself, too. What is happening at the moment is that the quality of our league has
affected the level at which our players develop. And knowing La Liga is at a much higher level it
becomes difficult for most of our players to fit in. But with La Liga coming to Nigeria, it will give our
football and players a boost which is one of the great benefits of this program. So, clubs in Spain are
aware that La Liga is doing something here in Nigeria and will be on the look-out for Nigerian players that can make the ranks. This means Nigerian clubs will have to up their game to further take advantage.
For instance, a product of the La Liga U-15 team is currently part of Nigeria's U-17 team and is one of the best players in the team the last time. It will be a gradual process but the products will be worthwhile in the long run.
We have two Nigerians currently in the Spanish La Liga now. Kenneth Omeruo with Leganes and Moses Simon with Levante. How key are these two players in increasing the interest for other Nigerian players to play in the Spanish La Liga?
La Liga has given Omeruo and Simon the platform to showcase their abilities and it is left for them to prove their quality. If they do well in the season, it will help other clubsides in Spain to look towards
getting more Nigerian players to feature in La Liga.
Let's look into the future now. 10 years from now, what would like to see as the achievement of the La
Liga and NPFL partnership?
I'm expecting many good things. Having started with the U-15 developmental programm which La Liga is very passionate about, I will love to see it grow to maturity by seeing many Nigerians players who are products of this partnership, go on to play for the top clubs in the Spanish La Liga which will translate for them playing for the Super Eagles, too. I will also want to see Nigerian clubs imbibe and emulate the Spanish football development culture both technically and financially to the benefit of all stakeholders in Nigerian football.
Do you have any word for Spanish football fans in Nigeria here about what they can expect from the
La Liga/NPFL partnership?
As usual, they should be expecting the best of the vibrant tiki-taka football. It is a total package that rubs off on the players and the coaches as well which makes the La Liga pattern and methodology the best in the world at the moment. That's why Spanish players and coaches are doing well even in other top leagues in Europe. Lots of La Liga coaches are doing well in big clubs all over the world even in the English Premier League. Pep Guardiola is with current champions Manchester City, Rafael Benitez in Newcastle, Mauricio Pochettino with Tottenham was a product of La Liga and we even did our UEFA Pro coaching course together. Luis Enrico the present Spain national team coach was with Roma before coming back to
Barcelona and Javi Gracia now with Watford was my teammate in Real Sociedad…
You are one of the few Nigerians who have the UEFA Pro License which is the highest qualification 
of coaching available and probably one of the most revered in the world. Yet you have never really 
shown interest in coaching, why is that?
Well, I've always been interested in coaching but let's say I've not really had the opportunity. I've done
more of administration when I managed Shooting Stars of Ibadan and even then, I had interest and did participate in the coaching process to some extent. Probably in the nearest future I would still get the chance to do full coaching even though I also enjoy what I'm presently doing now.
Headmaster Mutiu Adepoju, it's been a pleasure speaking with you. Thanks for your time.Thank you so much. 
_________________________
You can listen to the audio version of this interview on SPORTS PLANET PODCAST, your premium

news and magazine sports show produced by COMPLETE SPORTS STUDIOS. Go to