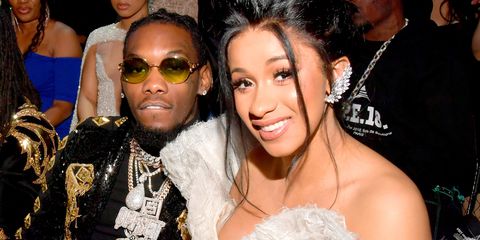 Since Cardi B announced in June that she and her baby daddy, Offset, had secretly married last year, people have been wondering when she was going to share a photo of the nuptialsWell, Cardi has posted a photo from the low-key wedding, which happened exactly a year ago on September 20th, 2017.
The Instagram post shows Cardi and Offset sweetly holding hands, with Cardi wearing what appears to be a light blue tracksuit.

View this post on Instagram
In a June tweet, Cardi described the impromptu wedding in detail.
"There are so many moments that I share with the world and then there are moments that I want to keep for myself. Getting married was one of those moments!," she wrote.
"One morning in September we woke up and decided to get married. We found someone to marry us, and she did, just the two of us and my cousin." Cardi said she tied the knot without a dress, makeup, or a ring.
Happy Anniversary, Cardi and Offset!