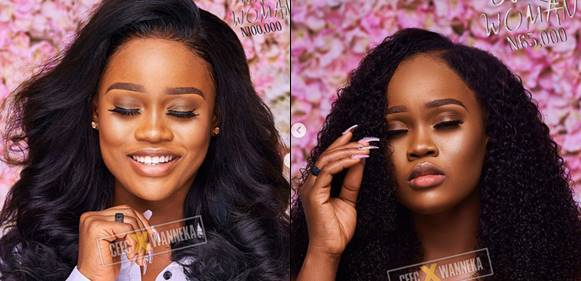 Former big brother housemate Cee-C has collaborated with Wanneka Hair to create a beautiful hair collection for all her fans to enjoy. She made the announcement on her Instagram page,whilst  modeling the different hair types. And she calls the collection  the "Modern Woman" collection.
See her post:
"Good afternoon beautiful people and Spartans alike. The LONG AWAITED 21st is here and as I reflect on the journey it took to get here, nothing but strings of tears flow down my cheeks.
9 months ago, I was just a lawyer who got into the Big Brother House in hopes of gaining a platform and finding myself….… Little did I think or know, I will walk out into the loving arms of 900,000 + strangers who have become my family, my prayer warriors – the Great Spartans, who never for once, in my imperfections, gave up on me.
Working on this project has not been easy and as it is the human nature, fear gripped me and I thought of giving up so many times.
I must tell you a lot of hardwork, sleepless nights and brain storming has been put in to this to give you guys the absolute best…and I trust you will love it .
This collection was inspired by so many things but the most important remains the desire for a woman to be stylish in the most modern way possible.
The #modernwomancollection comes in two types the Cee-C Curly and the sophisticated Wavy which comes with a full frontal specially made to create the most natural look possible !
The Modern Woman Collection boasts of 5000 pieces. It took a lot of thinking and courage to finally decide to produce that quantity and it is quite a lot.
This is a collection I want you to not only be proud of but when acquired and used, you feel more confident, unique, beautiful, gorgeous and most importantly,  MODERN.
This is my gift to you my Spartans! Thank you for being the best and I hope you are proud of this body of work. The dream goal is for #modernwomancollection to be sold out and yes we can do it .
NB:To my male Spartans, surprise your wives, sisters, female friends and girlfriends"