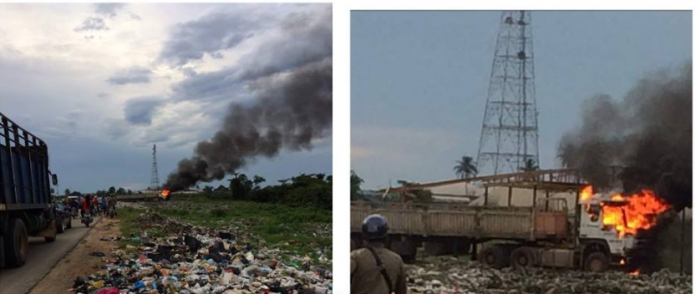 It was a black Sunday in Sapele area of Delta state following a fatal accident allegedly caused by Dangote trailer which killed at least three persons. According to a report, the driver of the trailer lost control due to top speed while trying to negotiate a bend yesterday evening.
The trailer was said to have hit a motorcyclist popularly known as Okada man who carried a passenger identified as Mr. Endurance Nwanpkai and his little daughter. The three persons were said to have died on the spot after the accident.
The fatal accident sparked outrage among residents who witnessed the alleged reckless driving on the part of the Dangote driver. This prompted them to set the trailer on fire immediately after the accident in protest to the deaths of the deceased persons.
Men of the Nigeria police force and Federal Road Safety Corps (FRSC) officials arrived the scene to control the situation and also evacuate the corpses of the dead victims.