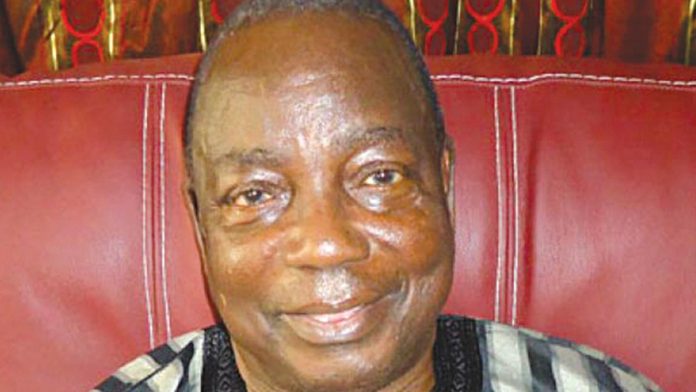 In my life, once again, I discovered that everything is connected. That life is like a jigsaw puzzle.
I was in Abuja early this week.
I was invited to the 2nd Memorial lecture for late Dr. Samuel Osaigbovo Ogbemudia held at the University of Abuja.
I was the only discussant at the event that had Sen. Chief Jim Nwobodo, former Governor, former Minister, former Senator, and former Chairman of Rangers International Football Club, as Guest Speaker. The topic was: 'Sports for National Development – the Ogbemudia example'.
What an experience it turned out to be for me, another exciting chapter in a new political learning curve.
< ?div?>
I have now learnt to surrender to the elements. Things around me just don't happen by accident any more. Everything is a piece of the jigsaw puzzle that is, ultimately, a new Nigeria in the making for me.
Attending the lecture added one more piece to the puzzle.
Dr. Samuel Ogbemudia was my 'father'. He loved me as his own biological son.
We first met closely when he was the Chairman of the National Sports Commission around 1991, even though I had known about him for decades before that when he was military governor of Bendel State during the very early days of my international football career.
He was in charge when Bendel Insurance FC emerged on the national scene to truncate the dominance of Rangers International and Shooting Stars International football clubs in 1978. In the semi-final and final of that year's FA Cup Insurance trounced (yes, trounced) Shooting Stars FC by 2 clear goals, and Rangers by 3 in the finals!
It was a truly incredible performance. Ten of the players in that team (except the captain, Felix Agbonifo) were invited to the national team and became Green Eaglesplayers!
After my football career was over and I went into the administration and business of football, my path with Dr. Ogbemudia crossed again when we were both appointed into same federal government committees set up to tackle various sports issues and challenges. I discovered he was a very resourceful leader and a person who lived and breathed sports.
We became so close that he tried but failed to convince President Olusegun Obasanjo at the time to make me Minister of Sports.
He became the pioneer Chairman of the Board of Trustees of the sports school that I established to promote the combination of sport and education as a model for the rest of the country.
At a time, frustrated by his inability to get me into government, we sat one day and discussed my going into politics to gain the essential political power needed to implement the great ideas that we both shared on how to use sport to develop the entire country.
He had a clear vision of how sports can be impactful, and the evidence of that is all over Edo State even till now.
As first governor of Bendel State he must have read from the development script of Chief Obafemi Awolowo, the great sage and 'best President Nigeria never had'.
In his work as governor, we could easily see outlines of several things Awolowo did earlier as Premier of Western Nigeria.
Dr. Ogbemudia replicated many of them in Bendel State.
He was, probably, the only other political leader in Nigeria's history that used sports extensively as a powerful tool for development of a geographical region.
He was only one of a very few people in Nigeria's history that envisioned very clearly, and articulated in several literatures, the place and power of sports in national development.
His frustration was that without political power brilliant ideas remained ideas.
When we worked together in the committees, churning out beautiful documents, they all ended up gathering dust in government offices.
That's why at a time in our relationship he wanted me to join politics.
Dr. Samuel Ogbemudia was only one of very few Nigerians that saw what Nelson Mandela saw in latter years when he said, after his return from his 27 years' jail experience, that 'Sport has the power to change the world'.
He also saw what Chief Obafemi Awolowo saw in establishing some of the best sports infrastructure and human capacity in Africa immediately after Nigeria's Independence.
That's why in the old Bendel State that comprises today's Edo and Delta States, late Dr. Ogbemudia is still the most revered of its political leaders.
Delta and Edo States are full of his accomplishments in all sectors.
The abandoned Afuze Sports Village complex in particular remains the only one of its kind in the whole of Nigeria. It lies prostrate today, its carcass a reminder of the incomparable vision of one of Nigeria's most fertile and creative sports minds.
Afuze would have serviced the whole of West Africa with socio-cultural and sports activities had another visionary leader come to complete it.
To Dr. Ogbemudia education and sports development were inseparable. He laid a solid foundation of developing sports through the school's system. That's why till now, Edo and Delta states, have been the most successful states in sports development in the country. Lagos and Cross Rivers States are presently following in that path.
He always looked at the totality of life through the lenses of sports.
That is the common denominator in our relationship. I could see what he always saw. That excited him a lot and he made me an integral part of his family.
Last week, on the campus of the University of Abuja, I heard testimonies about the late retired military general that I was not wrong in my assumption that the university would have undergone a rapid general development projectile, driven by sports, had he not passed on when he did. He was a dreamer who never aimed small.
His stay with the university was short, but his impact was felt all over.
At the memorial lecture designed to keep him 'alive' in the minds of all those that pass through the walls of that citadel of learning, the Guest lecturer, Senator Jim Nwobodo, was a great choice and did justice to the subject.
For the first time in my experience I saw a lecture literature that was printed as a 41-page handbook distributed to the capacity audience.
Jim Nwobodo had many things in common with the late Dr. Ogbemudia. They were both former governors, former federal ministers, and former Chairmen of the National Sports Commission.
Using their popularity in sports they participated in partisan politics and their victories at the polls were recorded unprecedented landslides in Edo and old Anambra States.
Dr. Samuel Ogbemudia turned Benin City into a sports Mecca with an annual tennis pilgrimage by national and ambitious international tennis stars from many parts of the world attending the Ogbe Hard Courts Championship. The city became a beehive of social engagement and commercial activities for weeks before and during the tournament, every year.
So, for several years of my special relationship with Dr. Samuel Osaigbovo Ogbemudia, I drank lavishly from the well of his unsurpassed and incredible achievements.
Two years ago, he passed on at a ripe old age.
It was a pleasure indeed to have been invited to be a part of celebrating the great Nigerian hero.