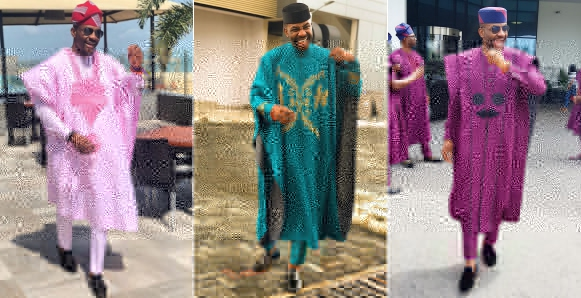 Nigerian media personality, Ebuka was the most anticipated guest last night at the premiere of AY's new movie, 'Merry Men'.
Ebuka was conspicuously absent at the Merry Men Premiers yesterday and several Nigerians have reacted as he was not part of the #AgbadaChallenge that trended across social media.
Ebuka himself has been trending across twitter over his absence at the Merry Men premiere.
The event tagged 'Agbada Challenge' saw Nigerian celebrities, male and female, turn up in all sorts of jaw dropping designer 'Agbadas' but for some reasons, Ebuka was missing at the event even though he had promised to show up in style.
Now social media can't keep calm with many disappointed fans who stayed up late just to see Ebuka and his 'famous Agabada' taking to Twitter to call him out.
See all the hilarious reactions below.
"See as @ebuka just abandoned us. No wonder Psalms 146:3 says Put not your trust in princes, nor in the son of man, in whom there is no help. #merrymen #AgbadaChallenge"
"That's how @Ebuka disappointed us without showing up at the Merry Men premiere. This disappoint is even more than that of Amaka as many people waited in vain except me"
"In between, I hope his competitors didn't lock him up somewhere"
That moment when I'm still on the red carpet looking for ebuka and everybody is already home,asleep,dreaming about the merry men.

— Asogwa Alexandra (@Alex_unusual1) September 24, 2018
Amaka disappointed @official2baba and now, @Ebuka has disappointed the whole of Nigeria.
This is confirmation that Igbo people can't be trusted ??

— Tiseer? (@ITiseer) September 24, 2018
Ghen Ghen….Is like kanipe @Ebuka tailor burn his cloth sha #merrymen #AgbadaChallenge pic.twitter.com/ZRpI9zG7Hv

— mufasawithascar_ (@Purplelord1) September 23, 2018
Someone said "@Ebuka's agbada is now more anticipated than 2019 election". #MerryMen #AgbadaChallenge pic.twitter.com/vZ13Q2WLTI

— Still On Still ☁™®© (@iamstillonstill) September 23, 2018
These guys came ready,chei they roasted ebuka and the merry men???‍♀️?‍♀️?‍♀️?‍♀️?‍♀️argue with you keypad#teamtolex #merrymen#agbadachallenge pic.twitter.com/1RpOIjBUxx

— TOLEX_DEFENDER (@DefenderTolex) September 23, 2018
We dun wait for Ebuka sote we dun de loose weight o #AgbadaChallenge #merrymen pic.twitter.com/l20U2OnJST

— Trouble maker ? (G.O) (@ObongRoviel) September 24, 2018
How can @Ebuka disappoint a whole country lai dis?????#agbadachallenge

— Oluchi (@sun__shyne) September 24, 2018
Ebuka is planning on pulling a Khloe and Anto tonight… we are patiently waiting till 3am…. who is with me? #MerryMen

— BRIDAL HAIR QUEEN (@faithmartins_) September 23, 2018
Good morning everyone except @Ebuka he should go and collect his good morning from his tailor ??
Amaka oshi! #agbadachallenge

— Dreams •|• Adefowora? (@shes_Ade) September 24, 2018
Finally, Ebuka disappointed all of us last night… At least, we bow know the female fashion of Amaka.#merrymen
#AgbadaChallenge

— Lord Emmy (@Lord_Emmy1) September 24, 2018
Finally @Ebuka is here… This outfit is worth the wait pic.twitter.com/tYTqonUk1q

— Daddy Hoe? (@MAXxYFIRE) September 24, 2018
@Ebuka , so with everybody saying your name laidis, can you sleep. At least just drop something erh. Even if it's bikini we'll take it laidat #merrymen #AgbadaChallenge

— Dorin Akpakli (@Nanayeyi) September 23, 2018
Ebuka should we just go to bed? #agbadachallenge #merrymen pic.twitter.com/XXlJrdxMFI

— Tachi (@lotachiokafor) September 23, 2018
#AgbadaChallenge people that are sleeping check if you will see Ebuka agbada there, he's looking for it

— champagne ???? (@soniablizz1) September 24, 2018
Chai na @Ebuka agbada I dey wait for liadis, and I have got to wake up early for work….. @Ebuka please answer us na #MerryMen

— IG: classicqueen23 (@cutest_cutie) September 23, 2018
@Ebuka whyyy my night was based on your dress why not show grand

— Mizter P ?? (@MizterrP) September 24, 2018
Just woke up, refreshed my feed, didnt see a sign of @Ebuka, chai, finally you disappoint sha.. #MerryMen #AgbadaChallenge

— Still On Still ☁™®© (@iamstillonstill) September 24, 2018
2baba should make a remix of his song "Amaka disappointment" and replace it with "Ebuka Disappointment"#agbadachallenge

— JollofNigerian (@Priyewrites) September 24, 2018
Ebuka disappoint me ??
We finally found the female version of Amaka.???
All these people their names end with 'ka' are suspects
Good morning fam#Agbadachallenge #Bespoke… https://t.co/z0PTCeAAIK

— Nonye Terry-Eze (@nonnierrence) September 24, 2018
That moment when @Ebuka stood up the whole country…. I guess that was the whole point. Nice??

— nma omereji (@sugerplum321) September 24, 2018
We declare this #AgbadaChallenge inconclusive, since the king of Agbada refused to come out.#merrymen #Ebuka pic.twitter.com/xU2RGCgbGE

— Agunwa Oluchi (@Iam_Olamma) September 23, 2018