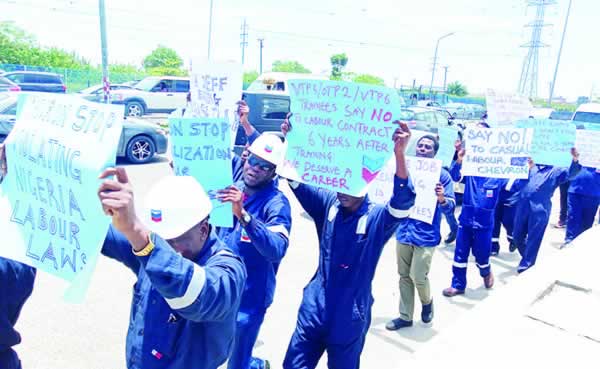 Some trainees of Chevron Nigeria Limited have protested against what they described as enslavement by the management of the company.
The men and women, who marched on the Lekki-Ajah Expressway, Lagos, alleged that Chevron wasted more than five years of their lives by promising them jobs which they never got.
They also alleged that instead of being employed, they got training contracts, adding that the action was against labour laws of the country.
PUNCH Metro was told that the trainees were from the Escravos Gas to Liquid Plant and other Chevron field operations in the Niger Delta.
Our correspondent gathered that about 30 of the 151 affected trainees were First Class graduates, while others reportedly left their executive positions in other companies to join Chevron after scaling the highly competitive selection process.
One of the protesters, Okunufa Mandy, said they were mobilised in 2013.
He said, "In 2013, we were mobilised to Chevron Nigeria Limited. We got offers through a recruiting agency. Initially, we did not know it was Chevron; we were only told an oil and gas company needed workers.
"Upon attending the interviews, we discovered that it was Chevron. We were told that we were being mobilised for operators and technician roles in the company. We were informed that four sets had been mobilised before us and employed. We came in under the Vocal Training Programme (VTP 5).
"We went to Ogere, Ogun State, for training. The company told us that it would be handing us over to a training provider, who would train us for two years, after which we would be employed in their facilities.
"This is 2018, Chevron, in an act of wickedness has continued to roll out continuous training contracts. Each time a training contract expires, we get something like, 'Due to your performance, we are extending your contract.' We have asked them several times if it means we all failed or we are not trainable.
"While all these so-called training was on, we have continually worked in Chevron facilities. I am a mechanical technician. I have worked in different roles; some of us have worked as lead technicians and others moved from maintenance to operations departments. They have used us to fill their operational needs over the years, while refusing to take on the responsibilities that come with it."
Another trainee, Lawal Solomon, alleged that at the expiration of the first two years of training, they were not issued certificates.
He lamented that despite having employment opportunities from two other oil companies, he chose Chevron with the hope of a better prospect.
He said, "If we were casual workers, it would have been better. But we have been enslaved. We were lied to and told we were going through a training process in 2013 when most of us left our career jobs and academics. Some of us were studying for PhD when they said we should come for this job. After about six years of casualisation, they are telling us that they have nothing to give us.
"We did not also get the Offshore Petroleum Industry Training Organisation  (OPITO) certificates we were supposed to be issued after the two years training in the classroom and on the field. A few of us said they got copies of the certificates, but when they tried to verify them from the issuing organisation, the certificates were disclaimed.
"We have been working on their fields as slaves, they should fulfil the promise they made to us in 2013 when most of us were leaving our career jobs. And if they cannot employ us, then they should pay compensations."
Another worker, Utomi Okoye, who claimed to have been in the maintenance department of Chevron for five years, said the company could not use low oil price as an excuse.
He said, "From precedence, Chevron has been doing this training from 2006. And in the National Content publication of the company, first edition, volume one, page 18, it was stated that the training was for entry level employees and to improve the skills of existing employees. The same training we went through was what others went through and as we speak, VTP 1 to 4 have been employed.
"Sometime ago, we were told that the price of crude oil was low and we should be patient. We were told when business improved and price of crude oil increased, we would be employed. The price of oil has stabilised, yet nobody is talking to us. We have been left in the dark; no message, no correspondence, no communication, no ownership."
Okoye said when the trainees became apprehensive of their fates, they approached their supervisors, who referred them to the coordinators.
He said the coordinators further referred them to the superintendents who asked them to see the general manager in charge of operations.
"They all said their hands were tied and that the issue was in the hands of the management of Chevron Nigeria Limited. We came to the headquarters on Monday and Tuesday, asking that the managing director should grant us audience. But we were told he could not attend to us.
"When my set came for the training, the company, which is complaining that the business environment is not conducive, sent another 50 for training. We believe it is a clandestine plan to make us casual workers," he added.
Another protester, Chisom Emmanuel, said if he knew the training would turn into a nightmare, he would not have gone for it.
"If these things were clearly spelt out, I don't think most of us would spend our youthful years here. We can't get an entry job anywhere again. We have no proof that we did any training for OPITO Level 2 certification. We don't have a recommendation letter to show we have worked in this capacity for five years.
"We have asked them several times to tell us what their plans are for us. Every year, they renew our training contracts. But we are not under training. We handle lead and supervisory roles.  Come out clearly and let us make decisions based on that. Now, you are saying you are not responsible for us and you don't know us. So, if we are not employees of the training vendor and you are saying we are not your employees, what are we doing in your facility?" he said.
A 30-year-old Anambra State indigene, Araluchi Samuel, said he joined the company at 25, adding that he had spent five years in the company without having anything to show for it.
"Most jobs I see now are entry levels and they want applicants to be between 27 or 28 years old. So, you can see, they have deceptively taken away my chance. I have nothing to show for my experience here because according to the company, I have been on training," he added.
PUNCH Metro learnt that the trainees had contacted the Falana and Falana Chambers, which had written Chevron Nigeria Limited.