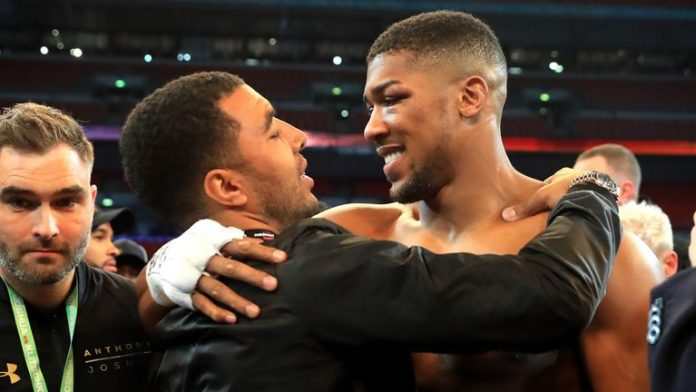 Watford captain, Troy Deeney, has revealed how his long-standing World Heavyweight boxing champion Anthony Joshua started and still blossoming, insisting it's a natural one borne out of mutual respect for one another which started in a barbershop seven years ago.
Deeney who will lead Watford out in Saturday's English Premier League game against Fulham at Craven Cottage admits that since he met Joshua, the current IBF, WBA and WBO world heavyweight champion, their friendship as thrived beyond his expectation.
The 28 year old, Joshua takes on Russia's Alexander Povetkin, a mandatory challenger, at Wembley Stadium on Saturday night.
"We met in a barbershop, seven years ago," Deeney told Sky Sports.
"Very simply, it was two lads going to get a haircut. He was training for the Olympics at the time, I just came in on a random Wednesday and we happened to have a chat.
"You know when people just connect in terms of determination, I respected what he was doing and he respected what I was doing, and it blossomed from there. We've been friends ever since."
"When I was locked up, he was one of the first to call me when I came out," Deeney added. "I was supporting him when I was inside and our friendship has just grown and grown and grown.
"We've never changed towards each other. With me, he's always been top-drawer. The fact he's still calling me is massive for me."