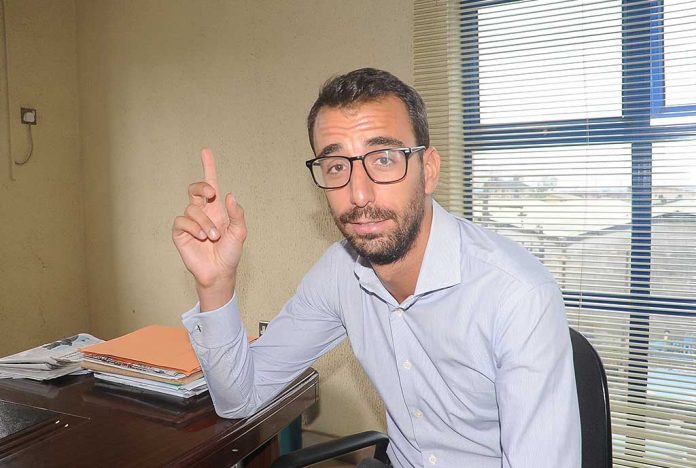 WITH four European Champions League titles in the past five years and another four Europa League 
crowns at a stretch, Spanish clubs are the undisputed Kings of European football at the moment. La Liga representative in Nigeria JAVIER DEL RIO tells how they did it and the lessons for Nigeria. He spoke with TUNDE KOIKI of Complete Sports Studios…
COMPLETE SPORTS STUDIOS: The Spanish La Liga and the Nigeria Professional Football League 
are having an increasingly interesting and mutually beneficial partnership. Do you want to summarize 
the scale of this partnership – what it entails and what the Spanish La Liga hopes to gain from it?
 Javier Del Rio: Since 2016 we have been working with the Nigeria Professional Football League in
order to improve the league and to exchange knowledge. Now we are trying to focus with them on the
grassroots football and that's why we have this under-16 program and what we intend to do, is to promote
and encourage Nigerian clubs to develop grassroots football. And through this tournament for the young kids, to have the opportunity to develop and to start from earlier age than they do now.
I think it's safe to say that this program is beginning to bear fruits. Because if I do recall, some of the members of the current U-17 national team were actually discovered from the partnership between the La Liga and NPFL and I'm sure you will be particularly delighted?
Yeah, absolutely! It's only one year that we've been able to develop the tournament itself. We've done the
coaching seminars for two years and we've already seen results. And I'm sure that if we can maintain this program through the next season, we'll see many more results to come.
Is it a long term program?
Yes, that's the idea. We are now focusing every year on the next one. This is not a short term program because to be able to see the real benefits, the idea is to make it a long term program where the clubs can really focus on their grassroots football development.
Part of this partnership has seen some NPLF stars travel to Spain and compete against Spanish clubs. Then last season, we saw Atletico Madrid visit Nigeria and play a friendly with a Nigerian selected side. That was another level of the partnership. Is it possible that we might possibly see Real Madrid or Barcelona sometime soon in Nigeria?
It's something we'll be delighted to do. We know that it's not easy to bring such big clubs to Nigeria or
Africa in general but we were still able to bring Atletico Madrid here to Nigeria. Barcelona went to South Africa. Definitely, Africa, especially Nigeria is becoming more important for all La Liga clubs and I'm sure at some point in a few years, hopefully, we'll have Barcelona or Real Madrid coming here.
The La Liga is a huge favourite of lots of football fans in Nigeria. Despite the fact that there is a 
language barrier, it is beloved by a lot of people and followed quite religiously. Why do you think that 
is so?
Well, when it comes to the best football and the best players in the world, I think La Liga is in the first
position. That's a fact and we've just seen the results in the European competitions during the past years.
We've won the last five Champions League, we've won four out of the last five Europa League. The level
is there and Spain is really strong and I think the key to our results is the grassroots football because the teams really focus on training kids who are very young. I think that's our main advantage over some other leagues in Europe. So obviously, when the best players are there and the best teams are there, it's normal that people want to follow La Liga.
Still talking about the La Liga, there's this rather controversial plan to host one regular La Liga game 
in North America possibly the United States and maybe Mexico with the players kicking against it. The English Premier League tried this at some point but they dropped the idea. Why is La Liga pushing this and what do you see that the English Premier League did not see?
In La Liga we are more and more focused on our international development. For us, it is as important to our fans in Spain as well as our fans all over the world. We want to make our competition to become international so that any fan of La Liga all over the world can be close to the best football in the world.
That's why we are trying and planning to do the La Liga game in Miami during this season. It's something we're currently working on – it's not 100% fixed yet but it's definitely something we are intending to do and hopefully, we'll be able to see soon if everything goes well. We've signed long term relationship with a local company and we're working together with them to make this happen and hopefully we'll be able to
see the results soon.
There is a massive Latin population in North America. Is it possible that this might also spread to other 
cities like Mexico where we have the 90,000-capacity Azteca Stadium. We might even see games in Los Angeles and even Texas. Is it possible that you might take it to other North American cities?
For now we are focusing on the first game and there are lots of things to be done to make it happen because it's not easy to bring, for the first time, a game of La Liga out of Spain to be played in North America. Our goal is to make all the parties happy with this agreement – the clubs, the players, everyone.
We're currently working on this and if we make it happen and it goes well, this could be the first step for
some other games in the future. But for now, our goal is this first game this season.
Let's talk about Nigeria and Spanish football. Over the years we've had a few Nigerians compete favourably in the Spanish La Liga for a few clubs. Mutiu Adepoju, Emmanuel Amuneke, Gbenga 
Okunnowo, Ikechukwu Uche… But for some reasons, we've not really had a mass exodus of Nigerians 
in Spanish football, it's just a splattering of one or two. Why is this so? Could it be the language 
barrier or that the quality is too high for them?
It's true that some years ago, we had excellent and probably the best Nigerian players at that time playing in the La Liga. Lately we still have some but maybe the level has dropped. It's something we're trying to work on because we'll be happy to see more of the best Nigerians play in the best league in the world. As you mentioned, the language barrier is something that could make some Nigerian players to prefer going to English-speaking countries but yet, we still have lots of African players in La Liga. We already have two Nigerians in La Liga Santander this season, Kenneth Omeruo in Leganes and Moses Simon in
Levante. Especially for Moses, there is a lot of expectanctations in Levante because they spent a lot of money on him and we expect him to do great during the season.
Some have said that maybe the key to increasing Nigerian interest in the Spanish La Liga would be to 
see more Nigerian players in La Liga. Is it something La Liga can actually promote knowing Nigeria is the biggest football market in Africa with almost 200 million people?
Definitely, it's something we're trying to work on and it is normal that Nigerians want to follow their
football idols if they play in La Liga which will give us more visibility. In the short term, it is through
transfer like the one with Moses Simon this summer but our goal is also that in the long term through the grassroots football development, the young and talented Nigerian players will understand that the best
football – the tiki-taka is in Spain and with that try to develop their career and aspire to play in La Liga.
So it's possible that this NPFL and La Liga partnership might see some of the young talents in Nigeria probably migrate to Spanish clubs?
Absolutely! It is an under-15 tournament but the players are still very young to go to Europe. But as I mentioned, our goal in the mid-long term is to give opportunities to these young kids to be able to play
and to develop in the best clubs in the world. It's not something that we will see the results immediately,
but if the program continues to grow, hopefully in a few years we will be able see good results from it.
Let's talk about the Spanish football derbies which are incredible and are the most intense in the 
world. Derbies such as the Seville derbies between Real Betis and Sevilla; Valencia derby between 
Levante and Valencia as well as the most popular El-Classico between Real Madrid and Barcelona are 
well known. Why are derbies so extremely passionate in Spain?
Well, when cities are divided into two teams, it's normal that there will be huge rivalry between those two teams. We've seen more and more magnificient derbies in Spain and the atmosphere in these games are unbelievable. The derbies are becoming higher not only in Spain but internationally and we want them to keep growing. The derbies are special games and it's more than just the 3 points at stake because of the passion the fans have towards them.
What do you think about the Nigerian football league and what do you think the NPFL can learn from the Spanish La Liga?
The NPFL had some issues recently because of a specific situation that led to the league being stopped. In general, NPFL are putting some things in place to improve the league. We discussed with them at some point. It is very important to bring your football to your fans through the television which I think they are working on. Secondly, grassroot football is really important in order to develop football in the country. In
Spain, we start training kids when they are 5-7 years old but here in Nigeria they start a bit later and
because of that the kids might lose some of their potentials. We have highlighted these two issues which
are vital for the development of the Nigerian league.
I must not fail to ask this question. Cristiano Ronaldo, one of the most dominant players in world 
football for the past decade and one of the icons of Spanish La Liga left Real Madrid and moved to 
Juventus in the Italian Serie A. Do you think this will diminish the quality of the La Liga and will there 
be new stars to rise and take his place?
To be honest, Cristiano Ronaldo is one of the best players in history. He has won four Champions League titles with Real Madrid and won five Balon D'or awards. La Liga misses him but on the other hand, I
think Madrid have a very strong and clear football policy. They are focusing now on young talents
because the prices of the best players in the market now are very high. So far, Madrid are doing well
without Ronaldo, they have won all their first 3 games. From last season, there have been some criticism around Ronaldo for not performing well, and at 33 it is more difficult. Gareth Bale is scoring more now while young players like Isco and Asencio now have more time to fully develop. I do wish Ronaldo well at Juventus, but he won't really be missed by Real Madrid.
Is there any truth to the rumour that the La Liga is scheming somehow to help Madrid acquire Neymar 
from Paris Saint Germain?
It is difficult for me to say as only Real Madrid knows. There has been rumours around Neymar but in my
personal opinion, I think Madrid are now not much into hiring big stars for a very high price but about
getting the best young players for lower price. They have signed Vinicius, a young player of 18 years for a low price and I'm sure they will try to develop him to become the new Brazilian star.
Thank you so much, Javier Del Rio.
Gracias… Thank you very much.
You can listen to the audio version of this interview on SPORTS PLANET PODCAST, your premium

news and magazine sports show produced by COMPLETE SPORTS STUDIOS. Go to