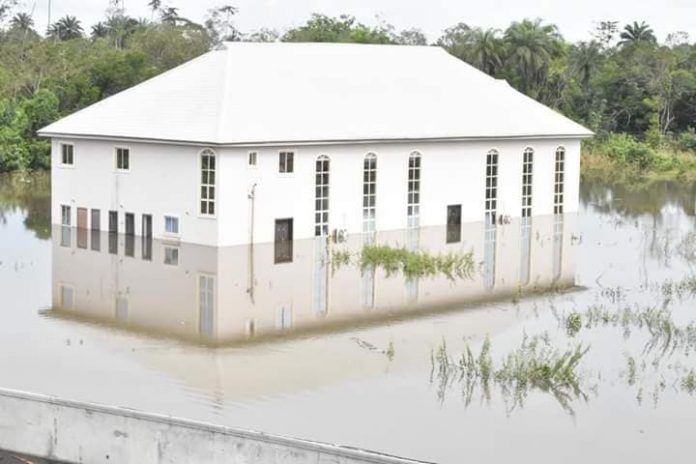 Delta Deputy Speaker, Rt. Hon. Osanebi Ossai Friday, couldn't access Beneku, his home town, today due to the ravaging flood that has submerged the community and other communities in the Ndokwa East State constituency of Delta state.
The Deputy Speaker who monitored the spate of the flood and damage already done, commended the understanding of his constituents, charged them to remain calm, that its a natural phenomenon, as he expressed hope that the flood will not cause further damages.
Farms, family houses including the Deputy Speaker's have been submerged in the overflown flood.
Reacting to news men, Osanebi thanked the government for their efforts, thanking Governor Ifeanyi Okowa and the local government chairman, Mr. Amachee Guan Governor, for their proactive actions and steps taken thus far, to ameliorate the impact of the natural disaster.
The disaster, has already taken farmers unawares particularly around Ase Creek, as the flood which gradually began recently has overflowed its bank.
Subsequently, the water began to rise, submerging farmlands and crops on the alluvial rich islands and adjoining farms on both sides of the River Niger, bearing Ndokwa East communities, thereby sacking the farmers and destroying their fish ponds, homes and markets.
Communities most affected along the River Niger are, Beneku, Aballa-Oshimili, Utchi communities of (Okwumedo, Umuochi, Owelle, Obalu and Obeche), Okpai, Abalagada, Aboh, Abuato, Ugbene, Agwe-Iyom, Ise-Onokpo, Onuobiuku, Umu-Ugbome, Umu-Uti, Afiankwo, Umuolu, Umuti, Akarai Adiai, Utuoku, Oworubia, Wari-Irri, and Onyah. @ Kwale