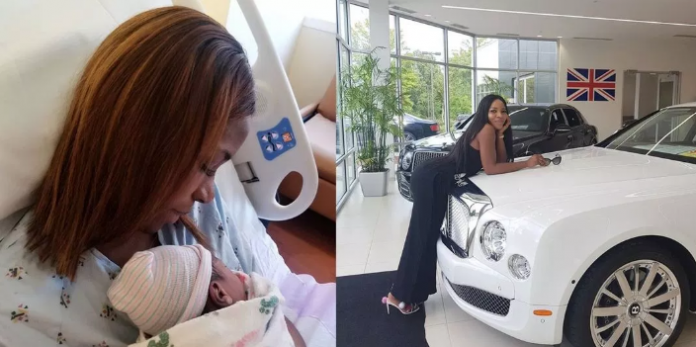 Just few days after birthing her son Jayce Jeremi and celebrating her 38th birthday, Linda Ikeji has gotten herself the most perfect Push Present anyone can wish for, a Bentley Mulsanne.
The little boy was born on Monday, September 17, in Atlanta.
Her sister Laura Ikeji was the first to break the good news today by sharing pictures and a video to showcase the latest Bentley Mulsanne which is worth over N100 million, she wrote:
Dear Jayce, ya mom went crazy the day u came into this world, oh boy! ya own don better. Dem born u buy Bentley. Omo mama olowo.  . Can't remember what my parents bought when they had me hehe. Check out Linlin' s Bentley..
Their sister, Sandra also wrote, confirming the price of the Bentley: Hey lil Jayce, your mum @officiallindaikeji promised you a Bentley , now you have it! Congratulations @officiallindaikeji on your 120mili Bentley #Bentleyforbabyj
Place this code at the end of your tag: