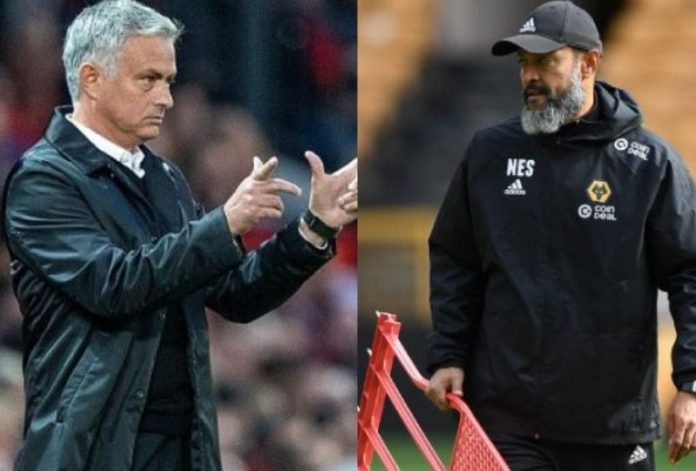 Jose Mourinho has heaped praise on Wolves and their manager, Nuno Espirito Santo, as the Manchester United manager prepares to face off against his former charge on Saturday at the Old Trafford.
Nuno was part of Mourinho's squad at Porto that conquered Europe with their Champions League triumph in 2004, having also won the UEFA Cup the previous year.
The clash at Old Trafford is the first competitive meeting between the pair as rival managers, with Nuno having led Wolves back into the Premier League after a six year absence.
The Wanderers chief admitted this week that he learned plenty from his compatriot during his playing days, having often sat on the bench during his two years under the Special One.
"Last season [they were] dominant – and we all know that it's not easy to be dominant in the Championship, even if you have the best team," Mourinho stated during his press conference on Friday.
"And they were dominant since the beginning until the end.
"Then they had a strong market, great work, great adaptation to the Premier League, getting the points and the performances that makes them feel and everybody feel, I include myself, that they are going to have a very stable season, very far from the problems normally a team that comes from the Championship has."
Wolves arrive at Old Trafford full of confidence after back-to-back wins over West Ham and Burnley .
They currently sit ninth in the table, having taken eight points from their opening five matches, and much has been made of the Portuguese influence running through the club, including star midfield duo Ruben Neves and Joao Moutinho.
"I think the work in Wolves is good because is not just about Portuguese influence, Portuguese manager, staff and players," opined Mourinho.
"It's also about getting the right ones. And I think they got good young players and got also good experienced, stable players.
"So they got this season the Portugal national team goalkeeper [Rui Patricio], Joao Moutinho, one of the players of the 100 caps club, [they have] big stability in the team, the young ones are young boys with good potential and you can see the work of the coaching staff.
"The team is a really really good team."