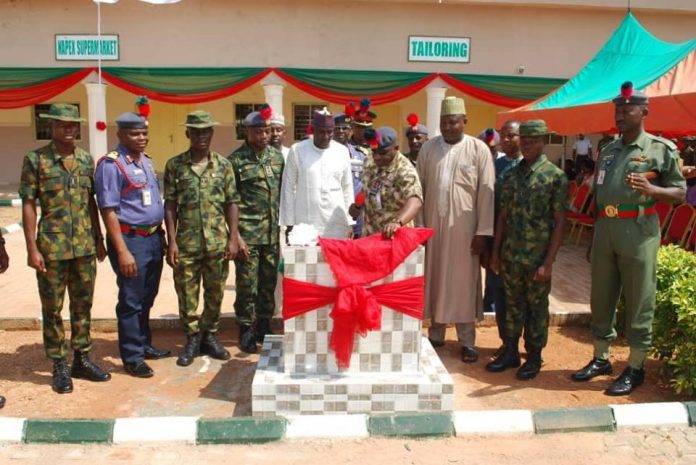 The Nigerian Defence Academy has again boost its social responsibility drive by renaming its utility centre at the Afaka Campus, Mallam Sule Utility Centre, after a renowned provisions store owner, Adamu Sule, who sold basic supplies to NDA cadets for more than 40 years.
Popularly called Mallam Sule, Adamu Sule, started selling kola, sweet and cigarettes on a tray in 1967 in and around the Academy, shortly after the Nigerian Defence Academy was established. He would sell to cadets, mostly on credit, writing their names on a notebook. Thereafter, he moved on to selling more provisions like bread, sugar, groundnuts and garri from a table.
He would in subsequent years move on to operating from a provisions store within the Academy, and then to selling military kit to cadets and officers. Mallam Sule did this until his tragic death along Jaji-Kaduna highway in July 2016 when he was run over by a car while crossing the road to visit Jaji Cantonment.
Unveiling the newly renamed Mallam Sule Utility Centre at the NDA Afaka Campus, the Commandant NDA, Major General A Oyebade, who was represented at the event by the Deputy Commandant, Air Vice Marshal Idi Amin, praised the late Mallam Adamu Sule for his industriousness, generosity and kind heartedness.
He noted that though a civilian, Mallam Sule was well known within the military circles because of the assistance he rendered to cadets of the Academy for decades.
Speaking at the event, NDA's Cadets Brigade Commander, Brigadier General LA Lebo extolled the virtues of late Mallam Sule, noting that the honour done him by the Academy was a befitting one on account of how the recipient touched so many lives positively.
First son of Mallam Sule, Abubakar Sule, who was one of four children present at the official unveiling of the Mallam Adamu Sule Utility Centre, thanked the Commandant on behalf of entire family for immortalizing their late father. He noted in emotion laden tone that though their father was deceased, his name is now alive in NDA.
The utility centre houses provision stores, a laundry mart and tailoring stalls, among other facilities.