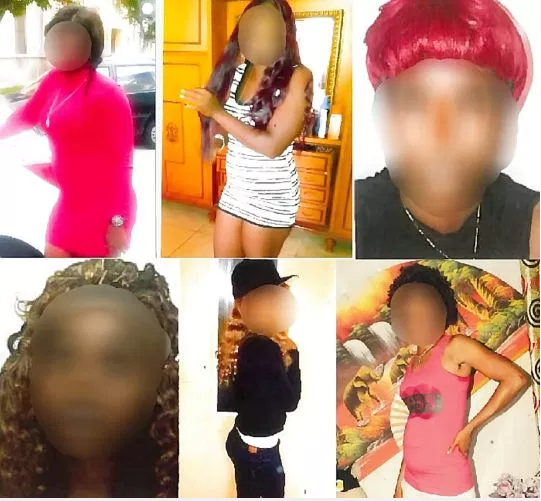 The Nigerian nurse who was convicted after using voodoo threats to traffick vulnerable women from Nigeria to Germany to work as prostitutes has had her 14-year prison sentence increased.
Josephine Iyamu, 52, was originally sentenced for 13 years for the trafficking offences with a further year for perverting the course of justice. But after she appealed the sentence, it has now been increased to 18 years after judges found it to be 'unduly lenient'.
Originally born in Liberia, Iyamu was made a British citizen in 2009 after being allowed to stay in the UK due to her nursing qualifications. She organised the travel of five women from Nigeria to Germany. Solicitor General Robert Buckland went to the Court of Appeal on Thursday to challenge the jail term.
But as she tearfully watched the proceedings via videolink from prison, Mr Buckland urged the three judges to increase the sentence imposed at Birmingham Crown Court in July.
After a hearing in London, Lord Justice Davis, Mrs Justice Simler and Mr Justice Dove ruled the total sentence imposed on Iyamu was 'unduly lenient' and upped it to 18 years.
Announcing the court's decision, Lord Justice Davis warned that others found guilty of such 'grave' offences could expect severe sentences.
Iyamu, formerly from Bermondsey, south London, is the first person to be prosecuted in the UK for arranging or facilitating travel for sexual exploitation of victims with no connection to Britain. She was found guilty at the end of a 10-week trial of five offences under the Modern Slavery Act, and also one count of perverting the course of justice while on remand.
The appeal judges increased the 13 years to 17 years, leaving the consecutive sentence for perverting the course of justice in place, making a new total sentence of 18 years.
Passing sentence after the trial, Judge Richard Bond told the married nurse that her 'vile' offences had left the women in fear of their lives.
Place this code at the end of your tag: