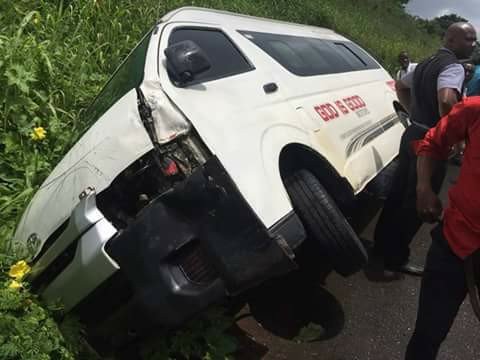 No fewer than 10 persons were seriously injured as severally others narrowly escaped death in an auto crash involving a bus belonging to God is Good Transport Company.
It was gathered that the incident happened after the driver allegedly slept off on the steering along Benin-Lagos Road, yesterday.
One of the passengers, who identified herself as Chenemi reportedly said that the bus veered off the road after the driver reportedly dozed off and landed in a bush.
"The driver slept off while on steering and lost control of the vehicle. Before we knew it, we were already heading towards the bush. "I sustained injury on my forehead. It was the airbag that saved me because I was sitting close to the driver."
The source further disclosed that eight other persons were severely injured while an infant lost one of her fingers to the mishap.
She blamed the driver for his unprofessional conduct while calling on the relevant authorities to call the management of the company to order.
The incident happened days after over seven passengers, mostly women traveling with same transport company were kidnapped.
The passengers were abducted on their way to Lagos from Enugu in Ore.