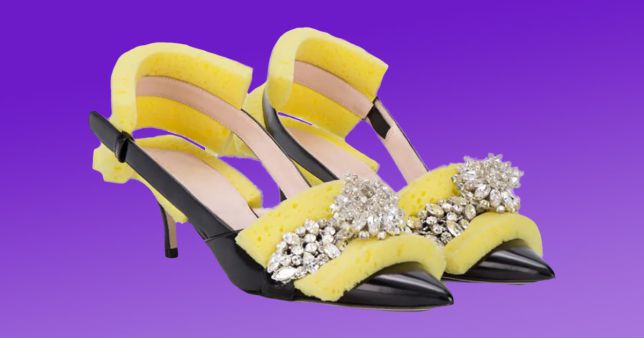 Christopher Kane's shoes appeared at London Fashion Week in 2017 to general shock and intrigue. Why, you may ask, do these shoes remain worthy of discussion? Well, they've got massive bits of sponge on them. In what may be a genius solution to the pain of high heels, Christopher Kane decorated his stilettos with what looked like dish sponges cut into strips. The bits of sponge provided padding at the heel and under the straps, as well as decorating the toe in little blue and yellow sponge stripes.
We liked the concept in theory, but the reality was a bit… strange. It's hard to get your head around shoes with dish sponges stuck on being the height of fashion – especially when said shoes cost around £800 (Christopher Kane's regular slingbacks cost around £450, while the Sponge Crystal Slingback Heels were listed by Surface at £834).
Would you rock them?