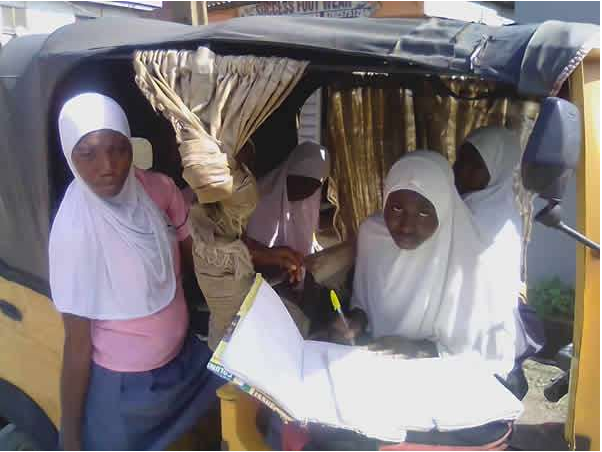 Here are pictures of five Muslim girls who were given letter of suspension for wearing Hijab in Isolo secondary school in Lagos.  According to reports, the students converted a tricycle popularly known as 'Keke Napep' to their classroom after the school ban.
It was learnt that the Principal, Mrs. J O Sadare, had on Friday announced on the Assembly that students should not wear hijab to school.
After the announcement on Friday, some of the students wore the hijab to school and were given a letter to come with their parents on Tuesday.
When the students got to the school with their parents, the principal walked them out of her office after their insistence that their daughters must put on the hijab.
Narrating the incident, Amir (President) of the Muslim Students' Society of Nigeria in Lagos State, Saheed Ashafa, described the incident as disappointing.
He said: "The entire drama started on Friday in the school when the Principal announced to the students that no one is allowed to wear hijab in the school. Surprisingly for her, some of the students still wore the hijab to school on Monday.
"She gave the students letters to invite their parents to school. In the letter, she threatened that the students will not be allowed into the school without their parents.
"When she shared the letter, a majority of students fidgeted and agreed to stop wearing the hijab. She collected the letters and let go of those ones, but about five of them refused to return the letter. When we were contacted, we asked the parents to honour the Principal's invitation.
"They went there with our (MSSN) representatives but were embarrassed by the Principal who gave them the option of either their children's education or religion. She eventually walked them out of her office after they insisted that their daughters must put on the hijab.
"The parents subsequently proceeded to the Education District in charge of the school and they were assured that something would be done. With the hope that her (the Principal) superiors should have spoken with her to realise that what she was doing was wrong with the subsisting Appeal Court judgement, the students went to school on Wednesday (today) and were still prevented from entering the school.
"These are Senior Secondary School Two and Three students who need to study hard for their examinations. When we got to the school this morning, we saw some of the students copying notes for lessons they have missed on Monday and Tuesday while the others were teaching themselves old lessons inside a tricycle on the street. This is disastrous for us. While their colleagues were in the classrooms learning, they were on the street just for being Muslims."
Ashafa explained that the Lagos State Government has continuously disobeyed the Court of Appeal ruling granting the use of hijab in schools.
Place this code at the end of your tag: