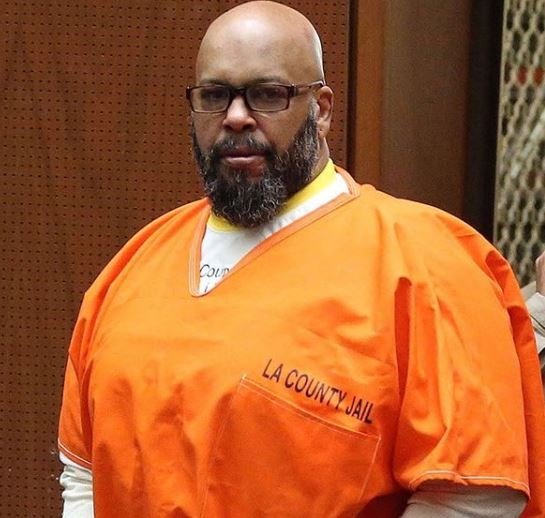 American rap mogul, Suge Knight has been sentenced to 28 years in prison after pleading no contest to voluntary manslaughter.  In January 2015, the former Death Row Records CEO was arrested and charged with murder after he was involved in a hit-and-run at a Los Angeles restaurant parking lot. Knight allegedly got into a confrontation with two men while on the set of the N.W.A. biopic Straight Outta Compton.
According to prosecutors, Knight proceeded to follow the men to a nearby burger restaurant, where he ran over them with his car. One of the men struck, Terry Carter, died from his injuries. The other, Cle Sloan,, suffered injuries to his head and foot. Knight fled the scene of the incident before authorities arrived.
Knight, who turned 53 in April, had been facing the possibility of life in prison. His no contest plea came days before his trial was scheduled to begin on Monday (September 24). Knight will get credit for the three-and-a-half years he already served while awaiting the trial.
Aside from the murder charge, Knight was also facing a second-degree robbery charge for an incident in 2014 in which he and comedian Katt Williams are accused to have stolen a paparazzi's camera. In 2017, he was indicted on charges of "threatening death or bodily injury" against Staight Outta Compton director F. Gary Gray, to which Knight pleaded not guilty.
Knight was previously sentenced to nine years in prison in 1997 after violating his probation stemming from an earlier assault charge. After being granted early release in 2001, he was sent back to prison in 2003 after assaulting a parking attendant.
Knight, who has experienced a series of health issues in recent years, told the judge he expects to die in prison.