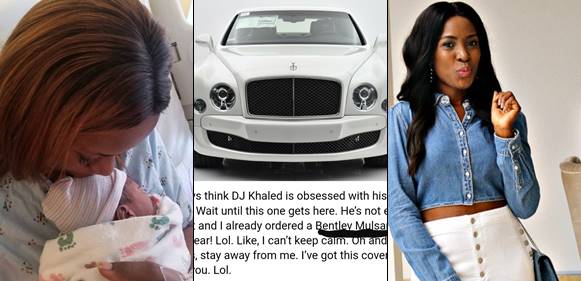 Celebrity blogger and latest babymama, Linda Ikeji has more on her plate than she can chew.
With her latest acquisition of a Bentley Mulsanne, which was announced by her sisters, Sandra and Laura Ikeji, reports have it that the price quoted by the Ikeji girls is false.
"Hey lil Jayce, your mum @officiallindaikeji promised you a Bentley, now you have it!?Congratulations @officiallindaikeji on your 120mili Bentley #Bentleyforbabyj," wrote Sandra on Instagram.
However, the Black Bentley Mulsanne in the picture is a 2018 model which is the latest and sells for 120 Million Naira, while Linda's white Bentley Mulsanne 2016 model is a fairly used which sells for $200, 000 in the United States which is 72 Million Naira.
Meanwhile, self acclaimed journalist, Kemi Olunloyo has rubbished Linda's claims of buying a Bentley. To Kemi, there was and is no Bentley Mulsanne.
Olunloyo tweeted, "Linda Ikeji did NOT purchase a "Bentley automobile" from a USA car dealership. She visited @BentleyMotors in Alpharetta #Georgia. I've been tracking the car's VIN# thru it's stock number. It is NOT HERS! The buyer will SHOCK U to the core #NoPrivacy4Linda"