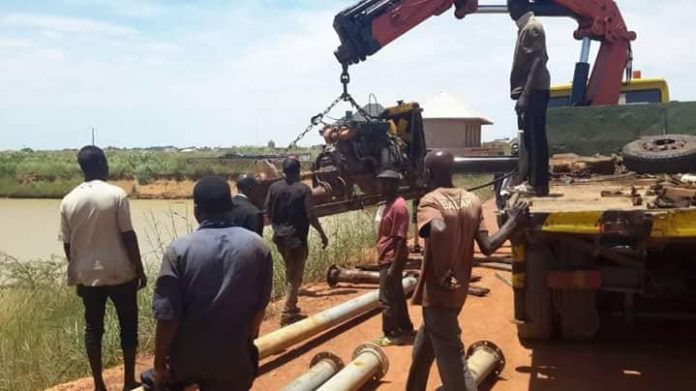 The Nigerian Army in its quest to unravel the circumstances surrounding the disappearance of Maj Gen. Idria Nur Alkali (rtd), has been conducting several search and rescue operations around the last known location of the missing senior officer.
Consequently, the COAS Lt Gen TY Buratai constituted a Joint Task Force comprising officers and soldiers from 3 Division Quick Response Team, Operation Safe Haven, Nigeria Police Force, Vehicle Inspection Office, Fire Service, as well as Local Divers.
According to a military report, several logistics issues including the alleged sabotage from the host communities have hampered the success of the operation.
Due to the terrain in the general areas of Paddock in Lafendeg Du Plateau State, the task force consulted a Chinese construction company working in that area who promised to assist in drilling out water from the pond where it was suspected that the vehicle belonging to the senior officer was pushed into.
However, the Chinese company was forced to withdraw from their services due to continuous threats and protest by women in the community clad in black dresses.
In the midst of this challenge however, the Task Force continued with its search and rescue operation which led to the recovery of an 18-Seater Hummer Bus door. This discovery indicates that there could be other vehicles in the same pond hence the continued protest by the community.
It was disclosed that the army would not relent in its search and rescue Operation until the retired general is found.
It was earlier reported that the army general went missing after leaving his house in Abuja on Monday 3/09/2018 for Bauchi where he has a farm but is yet to be found. He was alleged to have been kidnapped and killed in Plateau state.
The major general was reportedly found dead in a pool of his blood along the University of Jos teaching hospital's permanent site, according to a report by journalist Bello Lukman.
According to reports, the deceased's car was found alongside various other automobiles, ranging from motorcycles to tricycles otherwise known as Keke Napep.
Place this code at the end of your tag: