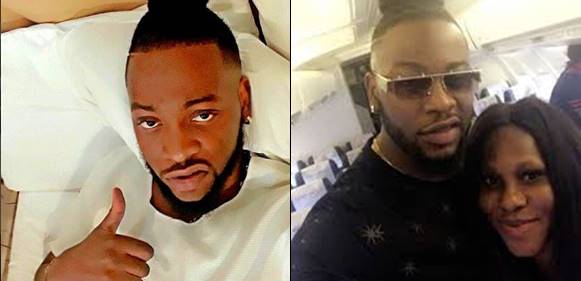 Some time ago a certain lady claimed she had sexual intercourse  with former Big Brother Naija housemate Teddy A on the plane. She posted a selfie of them on a plane and wrote: 'I F**k*D TEDDY A ON THE PLANE. I AM SO DAMN HAPPY'.
But she later denied it, claiming not to have a Twitter account. Nevertheless, Teddy A who kept mute about the incident for a long time opened up to Sunday Scoop, claiming not to be bothered about the incident because according to him, it never happened.
"I was not moved when I saw the post. If it was true, the news would still be trending. For me, once you are out there, these things will happen. I have already prepared myself for any eventuality that would occur. I saw it, I laughed and I was expecting another thing."
And on how he has been able to maintain a smooth relationship with BamBam, the singer and actor said:
"I really don't talk about my personal life. But I have never been a dramatic person; I don't have time for it. I am interested in work, money and the need to take care of my family. I am sure Bambam also sees life along this line, which is why it was easy for us to connect in BBNaija.
"I don't know what is going on with other ex-housemates and their relationships. But I will just say everyone should focus on the reason they went into the house; which was to become bigger and better. I could advise them in the house because I was there with them. Now, I don't live with them and everyone is busy. We connect whenever we have time but it is not my job to advise anyone on what to do with his or her life. If you reach out to me and tell me what is going on, then I will give you my advice. But I will not reach out to you and tell you what to do; they are all adults."
And on becoming an actor, Teddy A has this to say:
"Though music is my first love, acting is also something I have always wanted to do. I didn't want to be going for auditions and getting peanuts. I wanted to wait for the right opportunity to put my face out there, which BBNaija gave me."