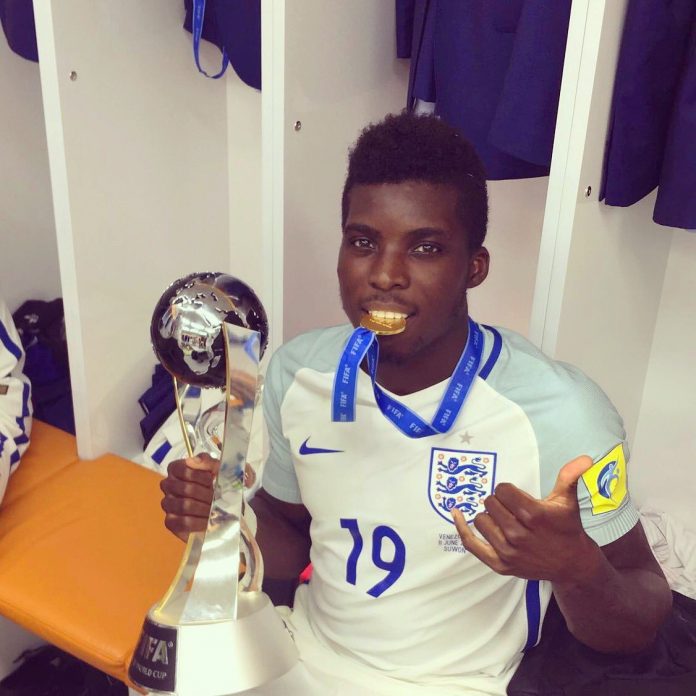 England Under-20 World Cup winner Sheyi Ojo says he would consider playing for Nigeria at senior international level if offered the opportunity by the West African country.
The 21-year-old, who is on loan at French club Reims from Liverpool, is eligible to play for the Super Eagles because his parents are Nigerians.
Under FIFA rules Ojo can switch allegiances because he is yet to play for the English sejor team .
And, despite having bagged 43 England caps from under-16 to under-21 level, Ojo is keen to fly with the Eagles.
"To be honest, I don't know much about it (Nigeria interest), but if they call me I'd be honoured to go to Nigeria," Ojo told BBC Sport.
< ?div?>
"It's obviously a massive nation. I'm just really focused on club football at the moment, but I'm excited for the future, both club and country.
"My parents are originally from Nigeria as well, so they know a lot about it. They've always been keen on the idea [to represent Nigeria] but so far I've mainly been focusing on club football.
"It's starting to get to the time where I have to start thinking about my future. And of course, if Nigeria were to call me now it would be an honour."
Ojo played five matches including the 1-0 win over Venezuela in the 2017 Fifa U-20 World Cup final to help England to their biggest international title since 1966.
Nigeria have previously succeeded in snapping up former England youth internationals like Sone Aluko, Victor Moses, Shola Ameobi, Alex Iwobi and Ola Aina for the Super Eagles.
The three-time African champions are also close to persuading Everton striker Ademola Lookman to play for them rather than England.
Ojo, who joined Liverpool from MK Dons as a youth prospect in 2011, would love to join such an illustrious list.
"Of course, if I was to get selected I'd definitely think about it, I'd never turn down Nigeria," said Ojo.
"I'm from Nigeria originally so it'd be an honour, likewise with England as well. If I keep doing well, opportunities will come by for club and country.
"It's not really something I'm thinking about at the moment but you never know what could happen in the future."